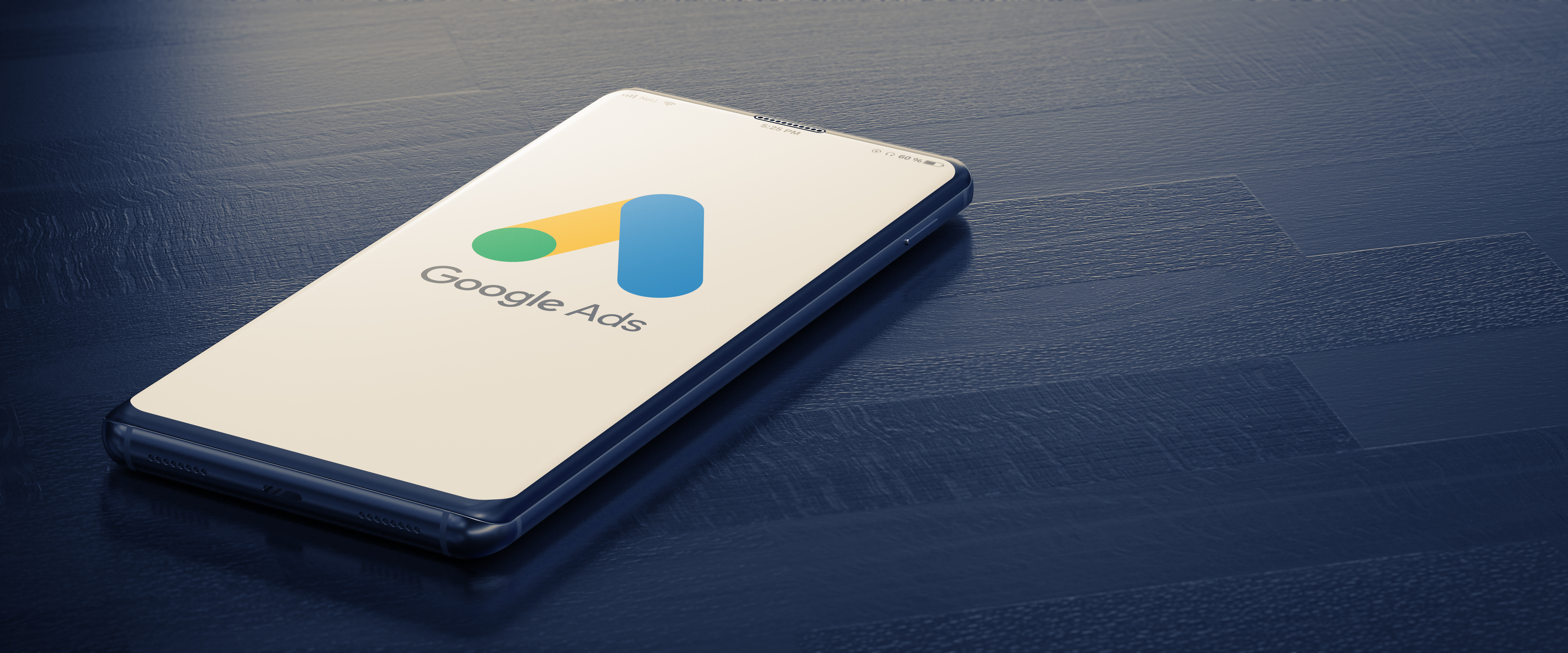 Your business can't exist without customers, so it's vital that you're always looking for new ways to connect with them, their intentions, and their purchasing behaviour. Creating engaging advertisements through Google Ads is an effective way to do this, as they enable you to target potential customers at pivotal points of the sales funnel, so you can turn them into quality leads and achieve demand generation.
Google is arguably the most important digital marketplace of the 21st century (it is the world's most popular website, after all), hosting more than 3.5 billion searches each day. What better way to reach potential customers than where they're active and constantly searching for new information? Your ad can appear on Google at the very moment someone is looking for products or services like yours, making it easy for them to make a quick purchasing decision.

This guide will take you through the 10 steps that make getting started with Google Ads easy, so you can get advertising quicker and start reaping the rewards.

1. What is Google Ads?
Google Ads is a paid digital advertising tool that helps you get in front of your competitors when people are searching for products and services on Google Search and Google Maps.

When people search for a product or service, they're met with a seemingly endless list of results; these results are made up of links pertaining to you and your competitors. If you want prospective customers to click on your links first, this is where Google Ads comes in. Using key digital marketing tools, such as keywords and targeting, Google Ads can help you get your ad to the top of a search results page and other relevant platforms, so your business can start getting noticed.

Google Ads is an effective way to drive quality traffic to your business, in the form of website arrivals, sales enquiries, and in-store visits. You can share ads (via mobile and desktop) to a target audience at a time that makes sense for them (i.e. at a pivotal point of the sales funnel) and this timeliness is paramount, so you can meet customers exactly where they are in their purchasing journey and serve them with valuable content that solves their problem.

2. How does Google Ads work?

Google Ads runs on a bidding system. Advertisers bid on keywords and search terms (the words that people are most likely to use when searching for a product), based on how much they'll pay for someone to click on their ad. The position of your ad is determined by your ad rank (your maximum bid times your quality score); maximum bid is the highest amount you're willing to put on a keyword and quality score is how relevant or useful your ad is to the user. The best ad rank gets the best position and remaining bidder's ads fall accordingly in the search hierarchy.
There are three bidding options to choose from: CPC, CPM, and CPE.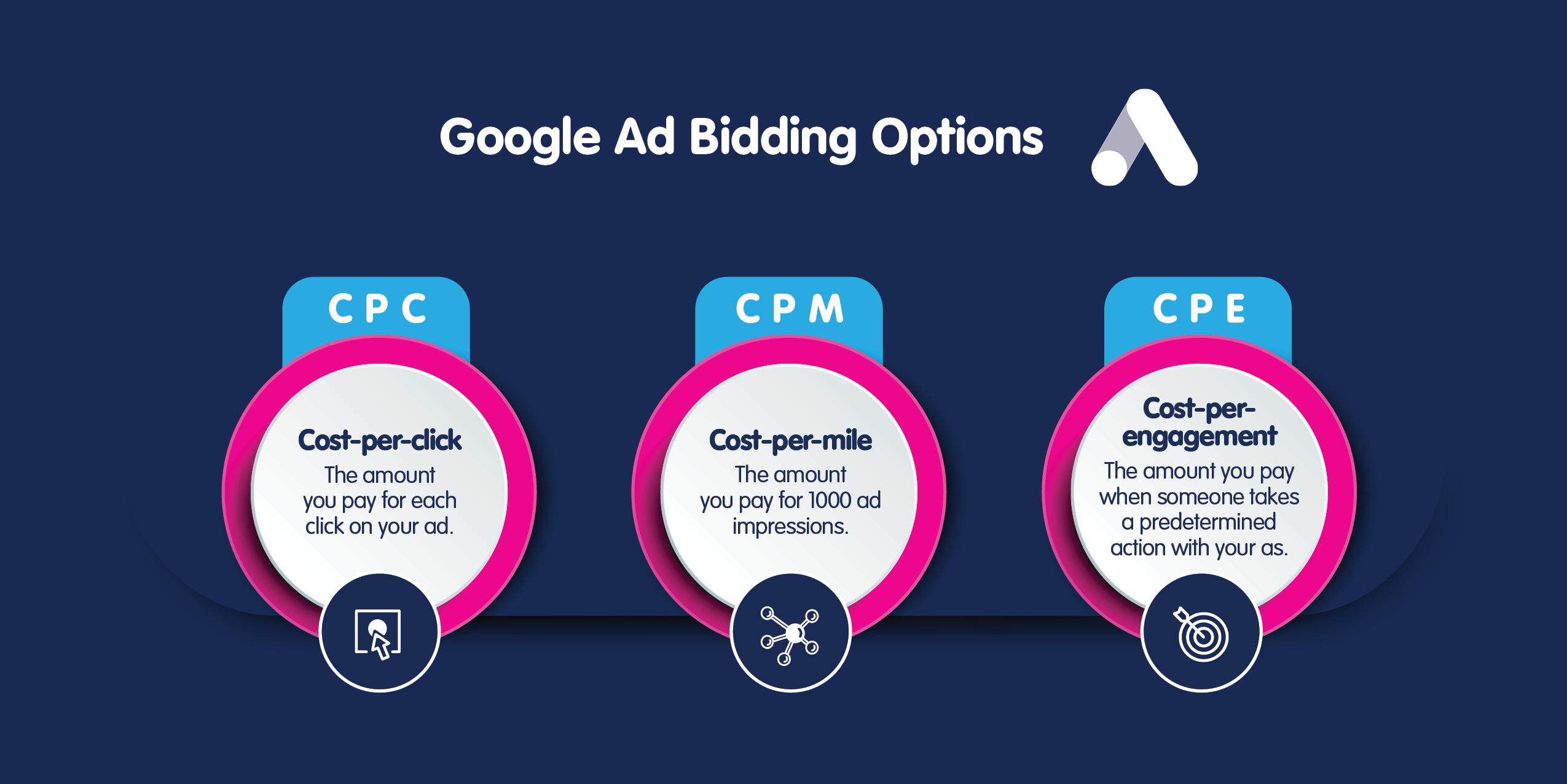 If you already have Google Ads running, why not check their performance with WordStream's Free Google Ads Performance Grader?

3. Types of Google Ads

There's more than one set-and-send format for a Google Ad; you can create five different types, depending on your needs and campaign goals. These include search, display, video, app, and shopping.

Search

Search ads are text-based ads displayed on a Google results pages. These ads are in the same format as regular results and are beneficial because they're being displayed where most people begin their research into products and services.

Display

Unlike traditional search ads, display ads are showcased on websites and apps that are part of the Google Display Network (GDN). They are also typically image based.

Google has agreements with millions of websites and apps, where the site receives revenue for allowing Google to advertise on them. If you want your ads to reach users across the internet, not just on results pages, display ads are a great option.

Video

Video ads are displayed before, during or after YouTube videos and run between 6 and 15 seconds. Considering that YouTube is a search engine like Google, using the right keywords will give your ad a better chance of being placed in a prime position—in front of organic video content—where people can engage with your content seamlessly, while they're viewing their video of choice.

App Ads

If your business offering is an app, or if your business has an app that people can download as an extension of your business, Google App Campaigns is where you can advertise it.

Google App Campaigns runs ads on platforms such as Google Search Network, YouTube, Google Play, and GDN. Instead of creating a campaign, however, you give Google your app's information and audience, place a bid, and let them do the rest.

Google App Campaigns can be used to encourage your audience to install an app, or to purchase certain components within it.

Shopping Ads

The fifth and final type of Google Ad is Google Shopping Ads. These ads are displayed on a search engine results page and include product information such as price and professional images (reviews, shipping information, and promotions can be layered in also).

These ads allow you to market specific products and product lines, rather than your entire brand, so it's particularly useful if you have a retail business.

Shopping Ads are generated through the Google Merchant Centre. Simply enter detailed product information and Google will do the rest—transforming your information into a succinct shopping ad in the appropriate format.

4. Establishing keywords

Keywords are single words or phrases that you use in the copy of your ad campaign, to reach people using those same keywords in their Google searches. For example, a person who searches, 'bridesmaid dresses' will see results from advertisers using keywords such as 'bridesmaid dress' or 'bridesmaid'. Keywords should align with what a searcher wants, so you can adequately satisfy their query and offer them a solution.

Google matches your ad with search queries, based on the keywords you've used, so it's important that your keywords match searcher intent as much as possible.

Each ad group that you create within a campaign will target a small set of keywords (one to five) and Google will display your ad based on those selections.

5. Targeting your audience

When creating an ad, you need to have a specific demographic in mind that you want to reach—whether it involves age, gender, device type, or location. Targeting an audience that has previously shown interest in your business, or that continuously shows interest in your competitors, ensures that you're reaching an impressionable group, which increases your chances of receiving a return on investment.

Location is one of the main features of Google Ads targeting as it aligns with Google's objective of displaying the most relevant results to searchers. For example, if you own a beauty spa in Sydney, someone in Melbourne that searches 'beauty salon' won't see your result.

Here are some examples of how location targeting can the right eyes on your business:
If you have a bricks-and-mortar store, you could target people within a 10km radius so they know you exist and can pop in to see what you're all about

If you have an online store that ships to certain states, set your targeting to only advertise to people in those states; that way, you're not advertising to somewhere your products don't even go too

If you have a global store, targeting the geographical areas that aren't doing much business with you, but are active with your competitors or within your industry, could help you tap into a new audience.
Want to learn how to optimise your location targeting? Watch this 5-minute video in the handy 'Google Ads in Under 5 Minutes' series.

6. Setting a budget

Whether you're interested in B2B marketing or targeting a consumer audience, it's wise to set yourself a Google Ads budget so you're making intentional advertising decisions—not just throwing money here and there and hoping for the best. Advertising is a powerful marketing tool that, when done strategically, can reap incredible results.

Regardless of how big or small your advertising budget is, you can create an ad campaign within its parameters. Google Ads allows you to set a payment threshold and to pause or stop your ad spending at any time. This gives you optimum control of one of the best growth marketing initiatives in the market.

Scratching your head on how much to spend? Have a read of Google's advice on setting a budget that works for you.

7. Creating an Ad

Creating a Google Ad is a relatively simple process, thanks to the platform's inbuilt user-friendly guide. After you click 'Start Now' on the Google Ads website, you'll begin the ad-making process; if you've prewritten your copy and selected the images you want to use, you can be up and running in less than 10 minutes.
Check out these 6 outstanding Google Ad examples to inspire your messaging.

Once your ad has been submitted for review, there's some less obvious steps you'll need to take to ensure your ad achieves optimum success and can be easily tracked.

8. Linking Google Analytics and your CRM

Growth marketing can be supercharged with tools like analytics and customer relationship management software, which help you understand how, where and when people are connecting with your business and its products/services. Integrating your ads with these pre-established systems means you can create more specific audience creation and tracking operations.

Linking Google Analytics with Google Ads allows you to monitor, analyse and report on channels and campaigns in the one place. Besides being convenient, it also provides important insight into the ways in which customers are engaging with your content.
Linking the two allows you to:
View ads and website performance in Google Ads reports (located in Analytics)

Import Analytics metrics, goals and ecommerce transactions into your Google Ads account

Enhance your Google Ads remarketing with Analytics Remarketing and Dynamic Remarketing

Receive richer data in the Analytics Multi-Channel Funnels reports.
Linking your CRM with Google Ads means you can see what ad campaigns are working for your audience, so you can continue marketing relevant offers to the relevant people. For example, you can see which keywords and content are receiving the most qualified leads and revenue, then optimise them accordingly.
HubSpot is a popular CRM used by businesses around the globe; if you use this platform and are considering linking it with Google Ads, here's how to do it.

If you need assistance setting up your CRM for on-going demand generation, Fileroom is here to help; not only can we get things up and running, but we can onboard your entire team too.

9. Adding Urchin Tracking Module codes

You likely come across them all the time, but an Urchin Tracking Module (UTM) code is the part of a URL that follows a question mark. Insights from these allow you to see which offer or ad led to a conversion, so you can determine the most effective part of your campaign.
It's best to add your UTM codes when you establish your ad, so you don't have to do so manually for each ad URL. If you do need to add them manually though, you can do so with Google's UTM builder.

10. Setting up conversion tracking

Being able to evaluate ROIs is vital for any business, as you want to make sure your undertakings reap your rewards rather than losses.
To evaluate the ROI of your Google Ads, make sure to set up conversion tracking. This allows you to see the number of leads you've gained throughout your campaign, including website traffic, app installs, and phone calls from ads.

Purpose of Google Ads

Google Ads are evidently a way of bringing digital transformation into your business—as it involves moving away from traditional advertising methods such as newspaper, pamphlet, and billboard advertisements, and embracing digital solutions.
Regardless of what your ads promote, the stronger and more focused they are, the more clicks and subsequent customers you're likely to generate. So before you create any ad campaigns, make sure you have a clear vision of who you want to target and what you want them to know. Also, don't be afraid to refine and iterate ads as you go; sometimes experimentation is what it takes to hone in on what's working and what's not. That's the beauty of Google Ads - you're not risking it all in one ad in the paper; you can keep evolving your advertising as you go.

Developing a digital strategy

If you want to connect with your customers intentions and purchasing behaviours, but don't have the time because you're busy running your business, consider outsourcing to a marketing agency. At Fileroom, we're here to help you focus on what you do best. We do the heavy lifting when it comes to your marketing strategy—delivering purpose-fit strategies and content for every stage of your buyers' journey, in conjunction with digital enablement, deep-data, and artificial intelligence.

Get in touch to discover how we can help you find the best solution for your business, or find out more about us on our website.