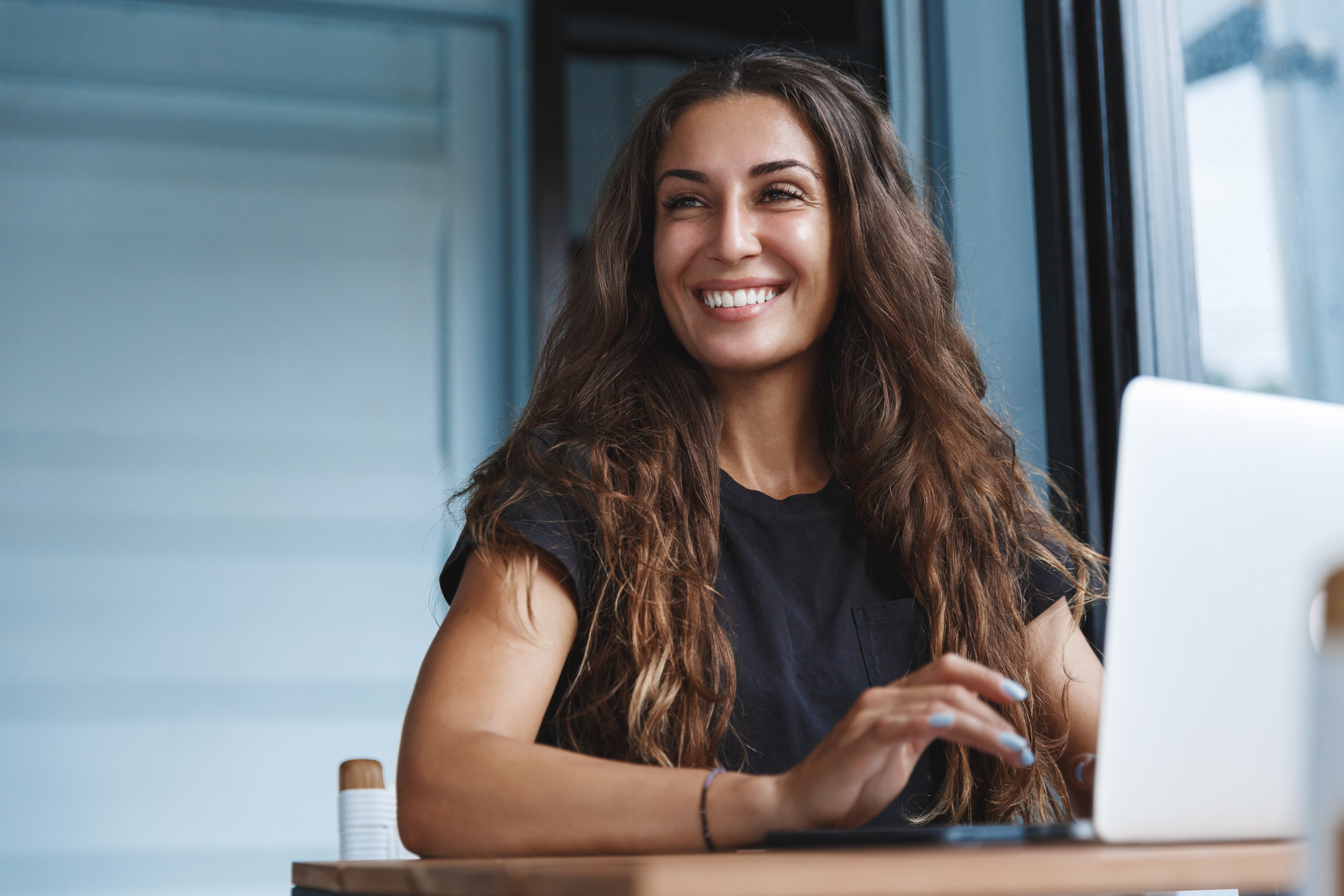 In a digital world, it's vital for your business (no matter what kind and size) to adopt new technologies and capitalise on trends as they arise. If you're a business owner, keeping your finger on the pulse when it comes to digital business strategies can help to streamline your operations, keep you relevant and help reinforce your point of difference.
To retain customers and reputation in this competitive landscape, it's crucial to create and implement an impactful digital strategy; one that enables you to stand out from the crowd by leveraging digital marketing tools that make sense for your business and your audience.
As a result of the coronavirus pandemic, many businesses have had to go digital in a short period of time, often with little time to plan; just jumping in head first and doing all they can to stay afloat. If you've found yourself in this situation, props to you for being agile and tackling such a mammoth task on the fly. Keeping a business running during a lockdown isn't an easy feat. As time goes on though, and we continue living in a post-pandemic/increasingly digital world, ensuring you've implemented all the key elements of your digital strategy is important for continued success.
Navigating the digital marketing landscape can be daunting, however. This article gives you the lowdown on some of the key terms related to digital strategy and the roles they can play in producing long-term demand generation for your business.
Digital transformation
In a nutshell, turning manual processes into digital processes is the basis of digital transformation. Whether the process relates to a product, service, culture or customer experience, digital transformation is all about using technology to increase efficiencies and amplify your messaging.
When your business undergoes a digital transformation, the question you should ask yourself when making decisions is, 'how will this help me better connect with my customers?'. There's no point increasing the digital capabilities of your business if it's not going to increase customer engagement. You don't want to make moves that are counteractive or that waste precious time, money and resources, so always have customers at the forefront of your digital transitions.
Need some further inspo? Check out these incredible digital transformation success stories.
Growth marketing
Unlike traditional marketing and its 'create, set, and hope for the best' formula, growth marketing adds the critical element of data insights. Strategies such as search engine optimisation (SEO), audience creation, A/B testing, and analysing campaign performance can help you to really understand your audience and figure out what works best and has the most impact.
Results from data analysis allow you to attract, engage and retain customers, as well as gain customer referrals, which in turn can lead to sustainable revenue and growth.
Content marketing
As the name suggests, content marketing is all about providing your audience with engaging written and visual content. But not just any content - the key with content marketing is to deliver valuable content that makes an impact; for example, introducing a content marketing approach might see you shift from exclusively promoting products or services to producing content through a more educational lense with less of a hard sales push. Providing useful information that people can use to make better informed decisions establishes your brand's credibility and gives you a reason to talk to your customers regularly.
Nailing your target audience is the key here - who you're talking to impacts the type of content you can create and where you distribute it - ensuring you attract the right attention and generate profitable customer actions.
Inbound marketing
Inbound marketing is the concept of drawing your customers in rather than chasing them down. Instead of interrupting potential customers by pushing products and services onto them, this type of marketing focuses on forming connections that are based on genuine need fulfilment and problem solving. This in turn creates more of a community dynamic, rather than a seller and buyer liaison.
Inbound marketing requires you to foster your target audience's needs and buying journey. This results in driving quality traffic, engagement, and conversions.
Read through these clever ways companies have used inbound marketing to inspire how you can connect with your own customers.
Marketing automation
Automated marketing involves using software to set up and send automated messages to customers—whether through email, social media, websites, or even text messages.
These automated messages follow a set of instructions called workflows, which can be created with set templates, from scratch, or modified mid-campaign to reap greater results. This customisability allows you to create messages that suit your businesses' distinctive style and tone.
Marketing automation is a streamlined way of managing multifunctional campaigns. It's a valuable marketing method because it enables you to connect with your customers consistently, while leaving you plenty of time to focus on other parts of your business.
Check out Hubspot's slick workflow automation tool, which allows you to quickly and easily visualise, customise and personalise your workflows, so you can put your key digital marketing tasks on autopilot.
Lead generation
Lead generation involves determining where someone stands in the buying process, then communicating with them via specific, targeted messaging depending on which part of the buying cycle (the 'sales funnel') they're in.
Guiding a lead through the sales funnel towards making a purchase is the end goal of lead marketing. Often, multiple online marketing channels are used to stimulate the interest of your potential customers and convert them into buyers.
Digital brand authority building
Brand authority relates to your business's perceived expertise within a certain sector or topic. Your business must earn the trust of consumers to be seen as a reliable source that they can confidently do business with. If the public sees your company as an industry expert and a reputable provider of a product or service, this is brand authority in action.
There are many ways you can turn your business into an authoritative figure. Some of these include: maintaining a strong online presence through SEO strategy, link building and organic search keywords, engaging with your customers on social media, creating regular blog posts, videos or podcasts that educate, hosting an online conference or event, and showcasing customer testimonials.
Strong brand authority gives you a presence in the market, sets you apart from competitors and helps you retain a loyal customer base. To find out where your business stands in authority and demand, use Moz's excellent free brand authority analysis tool.
Link building
Link building is the process of obtaining links from external websites to your own. Users navigate the internet by clicking from link to link, so link building can be an important component in your digital marketing strategy, helping your content to stand out among the sea of competitors.
As part of a structured SEO strategy, links are a signal that search engines use to determine rankings, so the goal of most link building campaigns is to increase future search traffic from Google. Increasing the number of high-quality links directed to your website can increase your chances of ranking highly and building your domain authority, which gives your business the best chance of being seen by potential customers.
Digital agency
In an age where your business needs to have exposure across multiple digital platforms to survive, it's no surprise that digital agencies exist. A digital agency consists of experts (from creative types to data whizzes) that help you grow your business through online space optimisation. A full service digital agency can help clients with specialist marketing activities such as search engine optimisation, online advertising, website design, social media management, content creation, e-commerce, and more.
Consulting with a digital agency is a great way to give your business the best chance at success, without you having to become a digital expert and do everything on your own. This also gives you the opportunity to focus on what you do best, delivering your products or services to your customers and making their experience great.
Social media content management
Social media is one of the best ways to connect with potential and returning customers, because you're meeting them in a space where they're active, engaged and on their own timeframe. Social media content management is the concept of creating, publishing, and managing content across social media platforms such as Facebook, Instagram, Twitter, LinkedIn, YouTube, and TikTok.
Social media content management goes far beyond posting an update here and there; it involves strategically sharing content relevant to your target audience and looking for new ways to increase your reach and visibility. The social media content management process involves defining your audience, developing a strategy and schedule, engaging with your followers, implementing ad campaigns, hosting promotions, and tracking the performance of posts to see what is and isn't working in terms of engagement.
Social media content management is a cost-effective way for you to market your products and services, as it eliminates the high costs of traditional marketing methods such as TV adverts and billboards. It also allows you to experience lead generation and conversion, which is essential for business growth. For top tips, have a read of our article on creating eye-catching social media videos.
Agile methodology
In the world of marketing, agile methodology involves managing projects and campaigns while being mindful of evolving customer needs and the ever-changing digital landscape.
As evidenced by its name, it's about employing an agile approach to your digital strategy, which involves continuous testing, measuring, and feedback in short sprints to ensure the best results are being achieved from any one task.
Being agile in your approach means increased speed, adaptability and productivity, allowing you to identify high-impact opportunities, pivot as needed and always operate with the customer at the centre of your decision making.
Customer Relationship Management
Customer Relationship Management (CRM) is a software businesses use to manage and analyse interactions with customers. At its most basic level, CRM holds your customer information in a single easy-to-use database, which you can then access to better understand them and how they interact with your brand. Discovering your customers' buying habits, opinions, and preferences is invaluable knowledge you can use to better your business.
The insights, data and organisation that a CRM can provide gives your business the tools it needs to effectively engage with and retain customers, and streamline operations for maximum efficiency; enhancing your service levels, sales and profits.
HubSpot is a popular CRM system that offers a completely free option, which is an excellent way to ease yourself into the world of customer analysis and management.
Getting started with a digital strategy
No matter what kind of business you operate, using digital technologies to tell the world about what you do and connect with customers is the key to continual success. Whether you're interested in B2B marketing or targeting a consumer audience, implementing a digital strategy will help you and your business achieve long-term demand generation.
We understand that marketing may not be in your skillset or you simply may not have the time to execute it well. If that's the case, we suggest consulting a specialised content creation platform that can help carry the load when it comes to creating and amplifying the content you need. At Fileroom, we operate as a digital agency, offering content creation services and effective marketing tools you can use to engage and educate your target audience, while leaving you with more time to focus on other important areas of your business.
Get in touch if you'd like to learn more about our services and how we can help you find the best solution for your business, or find out more about what we do on our website.