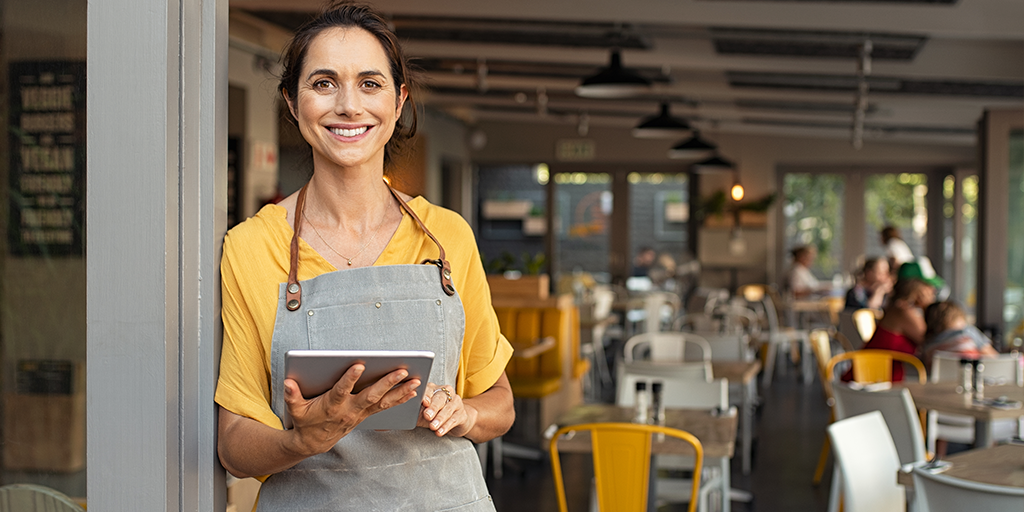 What does CRM mean?
CRM means customer relationship management, it's a software used to manage the relationships between your business and its customers. A CRM system is an essential tool for every business helping to collect customer interactions, information and historical data efficiently. The system then stores and uses customer data to create a unified customer experience, developing deeper connections with your customers, and improving your overall business performance and growth.
What can a CRM system deliver to your business?
Now that you have a basic understanding of what CRM is and what it does; here's a breakdown of the benefits of CRM for your business.
Keep track of customers as your business grows
As your business grows, it becomes much harder to keep track of all your customers and measure your sales and marketing performance, especially if your company is multilocational.
CRM systems assist with collecting, consolidating and storing customer data to help you keep track of your sales, your customer's information and marketing data all in one system.
Improves customer relations and business growth
Similar to how Enterprise Resource Management (ERP) systems manage your internal company interactions, CRM software for small businesses gives you the basic tools to keep track of your loyal supporters, customers and new leads.
A customer relationship management system helps keep track of who your customers are, what they've purchased, and when, where and how the interactions with your company took place, making it simpler for you to optimise and manage your relationships with them while growing your business.
What are the most common CRM benefits?
Recent studies show that, on average, businesses using CRM software grow 2-3 times faster than those that do not. Wondering how and why? It's because CRM software helps you gain better insights into your consumers by processing multiple data inputs into a holistic view for each individual client.
With this comprehensive view and deeper understanding, your business, your customer service staff, and your marketing department can make data-driven, informed decisions in various aspects of your business, from problem-solving and finding opportunities to up-sell to crafting more effective strategies for targeting, remarketing and cross-selling.
CRM software enables YOUR BUSINESS TO:
Win more deals with collaboration throughout your sales cycle
One of the best benefits of CRM is that it provides your with numerous features to help various departments, like sales, marketing, call-centres, and your service operations team, share critical information, collaborate and align.
As a result, this business tool makes following up on leads and closing deals more efficient and successful because customer data isn't lost, miscommunicated or forgotten.
Centralise customer information for all your employees
CRM software takes insights from every aspect of your business, centralises it, makes it simpler for your team to access and keep up to date.
When you eliminate confusion over which department has contacted a customer, remove the need for manual updates and have everything synced in one place, it creates efficiency within your business
Better service FOR YOUR customers
CRM ultimately helps give your customers a reason to return and remain loyal to your brand. Sounds too good to be true, right? But, it's not! Communication between your internal teams helps create a seamless experience at every stage of the buyer's journey for your customers.
Build profitable, sustainable relationships with your customers with more effective target marketing
Whether a customer sees your digital marketing enticing them to your website and they convert there, or they make a physical in-store purchase, CRM software collects the data. The synced information enables your marketing team to show your most relevant offering to them, allows you can create special offers, builds a sustainable relationship with the customer, and crafts a personalised experience for them.
Increase your customer loyalty and drive repeat business
When your business remembers the small things like previous interactions, keeping up to date information, takes the time to understand customer struggles, ambitions and preferences, it builds a relationship based on mutual respect and trust.
These types of relationships turn into loyalty, make customers want to return, and improve your business's Customer Lifetime Value (CLV).
Automate customer-facing business processes and streamline repetitive tasks
There are so many automation advantages for daily tasks with CRM platforms. Here are a few key ones below.
Customer information updates

Lead nurturing campaigns

Quote, sales, deals and unenrollment trigger workflows

Chatbot conversations

Agent/sale representative/employee assignment management

Email nurture sequences

Digital marketing campaign reporting
Gain visibility into staff and business performance to make timely decisions
CRM software like HubSpot makes business analytics and accurate reporting easy thanks to their built-in features, tools, and integrations.
Not to mention, it acts as a real-time business forecasting and performance management tool. With a clear look at your business's performance, you can address your sales and supply pipelines and business processes issues. As well as keep track of various staff, teams and departments performance.
What are the benefits of crm when it comes to sales?
Improved communications with management
Improving your sales team communication with management makes it faster for your sales team to request approval for customer discounts, for example, and inform management of important sales insights.
Improved forecasting accuracy
You may not think it, but CRM dashboards can create accurate sales forecasting. With historical sales data, CRM software constructs a forecast helping you predict your business's growth.
Reduced administration burden
With less daily manual administration, a sales team can do what they are best at; form customer connections, build relationships and focus on providing excellent customer service.
A notable CRM benefit for sale is that the data collected by the software helps reduce the cost of your business's sales. Here's how:
Improving sales efficiency
With accurate and relevant data, you can set sales goals and KPIs (key performance indicators), provide your sales team with a clear picture of their customer, create an efficient sales process for your business, and prioritise high-value leads.
B

oosting sales effectiveness
CRM and sales are your best friends, especially when it comes to boosting sales effectiveness. By monitoring fluctuations in sales activities, you can keep a close eye on your sales team's average number of customer interactions, notes, meetings, and your sales overall effectiveness with customers.
Increasing upsell and cross-sell opportunities
Equipped with the knowledge of your customer's preferences, your sales team can increase sales of additional products or services related to the customer's initial purchase. It'll also be more persuasive when upselling if your team knows what will make customers fall in love or change their minds.
Uncovering referral business
Discovering and tracking referral business may sound like a logistical nightmare; however, finding and rewarding referral business becomes less of a chore with CRM software. As a result, sales can build stronger relationships with customers who assist your business with one of the most powerful forms of marketing, referrals to friends and family, aka word-of-mouth (WOM) marketing.
What are the benefits of CRM to marketing?
The data provided by CRM software to marketing departments means they'll know what to market to select customers to create awareness, desire and demand for your offerings.
Increase returns on marketing investments
One of the great benefits of CRM in marketing is the software's ability to identify marketing efforts with the highest return on investment (ROI).
Make intelligent business decisions with enhanced customer insights
Instead of spending money on clicks that don't convert or placing ads on costly platforms and publications, your marketing department can use CRM to make consumer-centric decisions.
Data from previous campaigns, marketing efforts, and digital marketing platforms, paired with your customer's insights, will lead to informed marketing decisions for your business.
With increased speed to market, your marketing department can gather information from the CRM dashboard, adjust strategy, and move forward with minimal competition from competitors.
Maximise visibility into and control of entire marketing process
The marketing process consists of multiple activities, and CRM consolidates all of them, so your marketing department gains a clear, bigger picture of your business's entire marketing process.
What are the benefits of CRM to customer service?
The benefits of CRM for customer service include supporting your field service team members and call centres. Not to mention creating effective processes for:
Handling business resource planning
Contracts, complaints and service orders
Warranties, returns and repairs
E-services
Customer and sales analytics


Service functions of CRM are about sharing knowledge and expertise
Often (and without meaning to) marketing departments, sales and customer services work in silos. CRM software resolves this issue and presents customer service teams with quick and well-organised ways for various departments to share insights and expertise.
CRM allows more effective management in customer service
Customer service teams can submit queries, requests and complaints, receive a reply and share the information with multiple staff members without missed emails or lost communications.
Identify a new problem, pose questions, capture answers and share them
Problem-solving, experience capturing and digitising are other customer service benefits of CRM. With customer-centric data, customer service representatives can highlight new difficulties or customer problems, share the resolution, and store it along with in-field notes and training manuals.
Patterns across customer bases become clearer, and service operation becomes proactive
Precise information from CRM lets customer service teams identify patterns within and across customer bases, equipping them with the information required for proactive customer service and relationship building.
Want an example of how CRM and customer service can work well together. Picture this; a potential customer inquires about an offering on one of your social media pages and provides their contact information.
One of your customer service representatives then calls or emails the person within hours regarding their initial inquiry.
This act of reaching out and knowing the customer's wants (or needs) empowers your team to follow leads proactively.
Alternatively, with CRM, your call centre, marketing team or sales can alert your entire customer service team and yourself to a product issue or complaint from a customer. Customer service departments can use this information and current customer records to take charge of the situation; and find a solution before it impacts your brand's reputation and sales.
A CRM system can drive service revenue and profitability with support for service sales and marketing
Improved and proactive customer service with access to relevant real-time information drives sales, assist with lead qualification and provides the support sales, marketing, customer service and your operations team need to generate profit.
Increase employee productivity
While reading this you've probably noticed that one of the greatest benefits of CRM for employees is its ability to increase their overall productivity. By simplifying critical processes, increasing and quickening internal communication, and decreasing administration, employees have time to innovate, think proactively and spend time forming connections with customers.
Improve customer retention
In the end, CRM benefits not only include supporting your business's internal workings and communications; but also your business's capacity to form customer relationships, build on them with tailored experiences, create loyalty and keep customers coming back to you.
At Fileroom, our team is dedicated to future-proofing your sales and helping you succeed in today's busy marketing landscape. Working closely with you, we can optimise every stage of your buyers' journey, assist you with digital enablement, and do deep data dives to improve your marketing ROI and sales performance.
If you are interested in learning about CRM software for small business, the benefits of HubSpot CRM, or the best CRM for small business in Australia, we can help! Reach out to
Fileroom
today