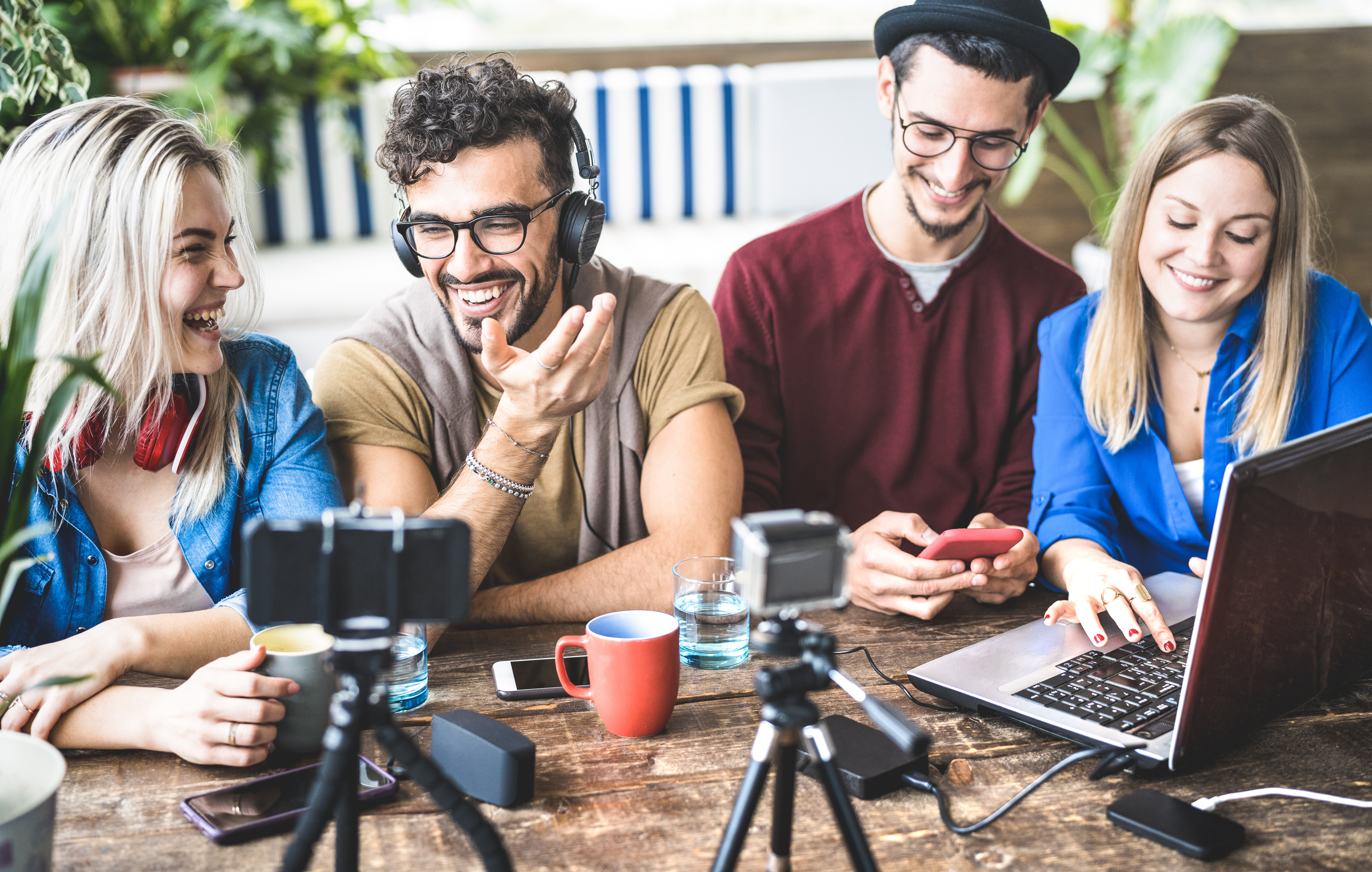 Social media video is, without a doubt, the most engaging communication format nowadays. As our attention spans have decreased and short and sharp videos are dominating the social media landscape. Mobile phone camera technology is enabling anyone to shoot a video and post it online. However, it's not as simple as filming on your phone, and uploading it to Facebook, Instagram, Tik Tok, etc. Unfortunately, no one format fits all. Videos must adapt to each social media platforms format. Furthermore, they need to adapt for the different specs within these formats!
Sounds technically daunting, I know. But never fear, we've put together a formatting bible where you can find all you need to know about adapting video for the major social media platforms. Except, if we were to provide information on all the major social platforms, this blog would be more like a novel. Instead, we've selected what we believe are the top 5 social media networks listed below. You can click on any one to skip to that platform:
Instagram Video Specs
Roughly 71% of businesses use Instagram to reach their target audiences through images and video. Suitable for small to medium companies that can utilise the visual medium. Their Instagram advertising is worth the investment and marketers should be prepared to produce engaging videos in the right formats.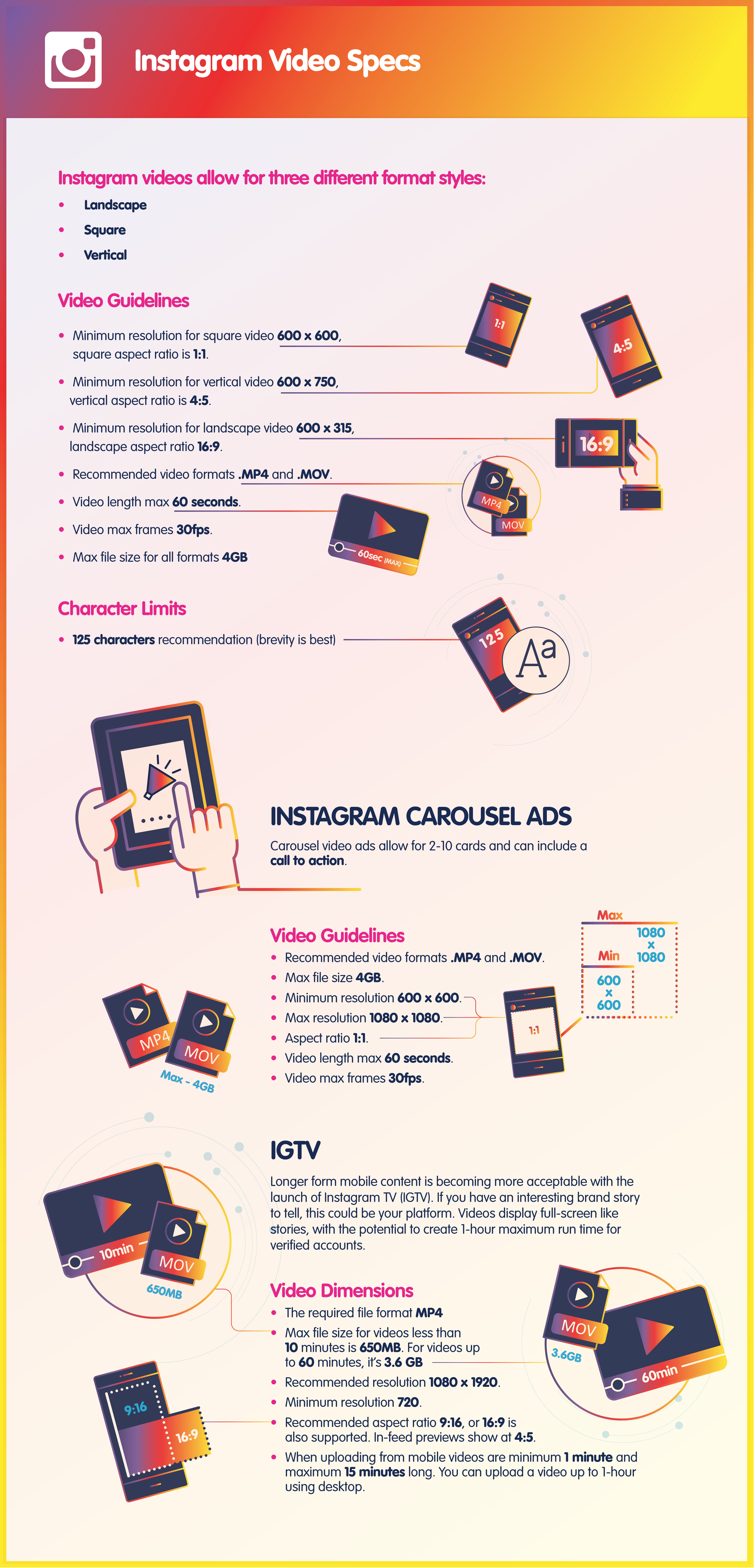 LinkedIn Video Specs
LinkedIn is your social media platform for the corporate world. Suitable for larger businesses in professional services, finance, sales, marketing, advertising, finance, recruitment and investment. In 2017, almost 75% of business executives were already watching online videos every week. That number will be more likely higher now, and we expect it to only grow.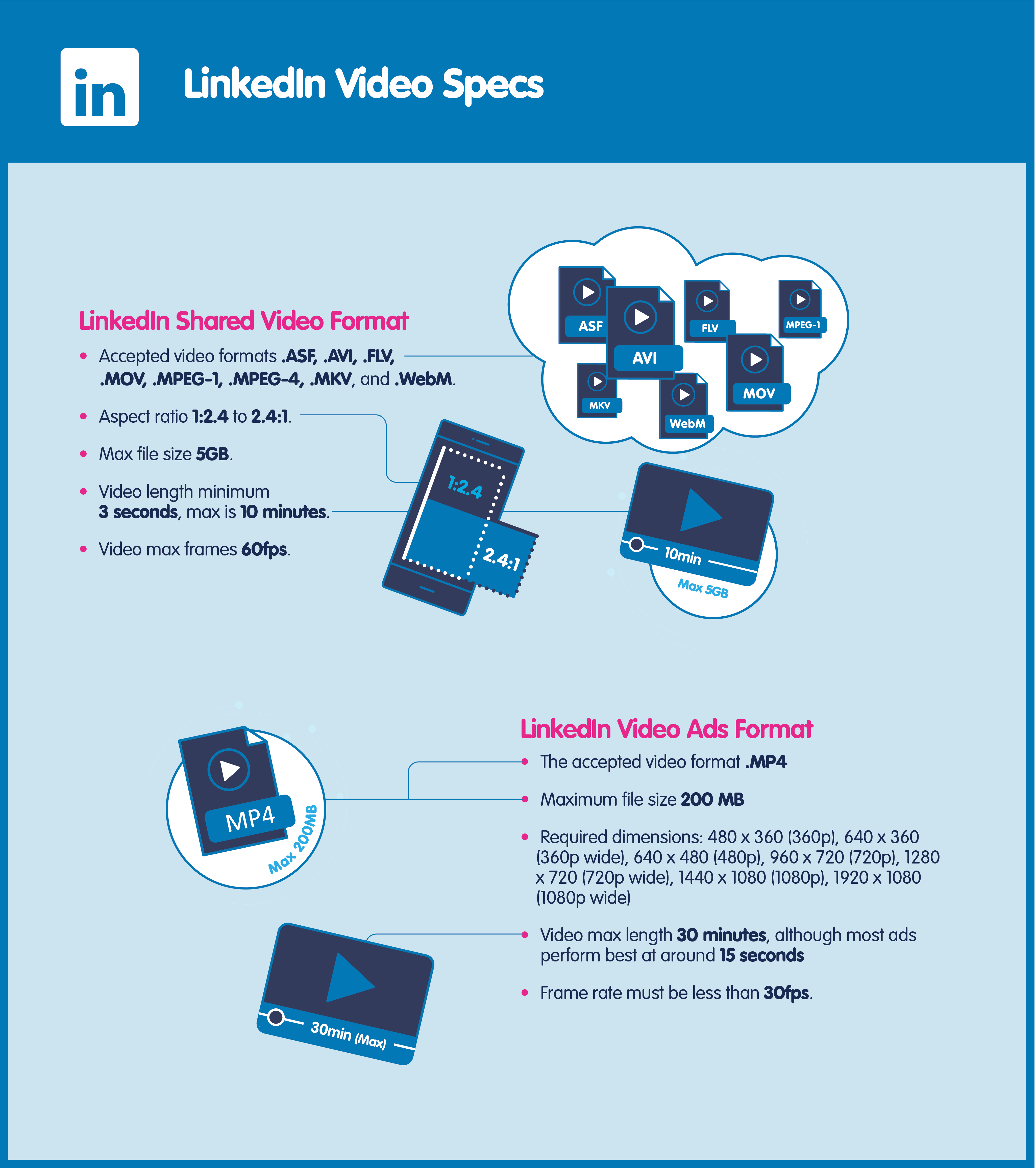 Facebook Video Specs
Despite what people may say, Facebook is still relevant. According to WordStream, about 45% of users watch at least an hour or more of Facebook videos every week. Facebook is probably your most broad market. Almost any type of business can market and advertise here. However, it's perhaps more suited to your small to medium business seeking direct engagement with their customers.
The challenge for businesses and marketers, however, is navigating the many types of videos you can share on Facebook! And to make matters even more complicated, each video format has different dimensions and specs. But never fear, we've brought it all together in one place for you.

Tik Tok Video Specs
TikTok is your new kid on the block, a promising frontier in video content marketing. Tik Tok videos exploded in popularity during the COVID lockdown. However, Tik Tok is not just about making funny and entertaining music videos. Although new, we expect Tik Tok for Business to become a go-to marketing platform for a specific market. Suppose brands can encompass the funny and entertaining style that Tik Tok fosters into their marketing videos. In that case, it's a great way to capture their audience's attention and build brand loyalty.
With TikTok a more fun, informal, and creative social media platform than many of its peers, it would suit brands that are precisely that; fun, informal and creative. Think the fashion, sports and entertainment industries, aimed at the younger millennial and Gen Z demographic.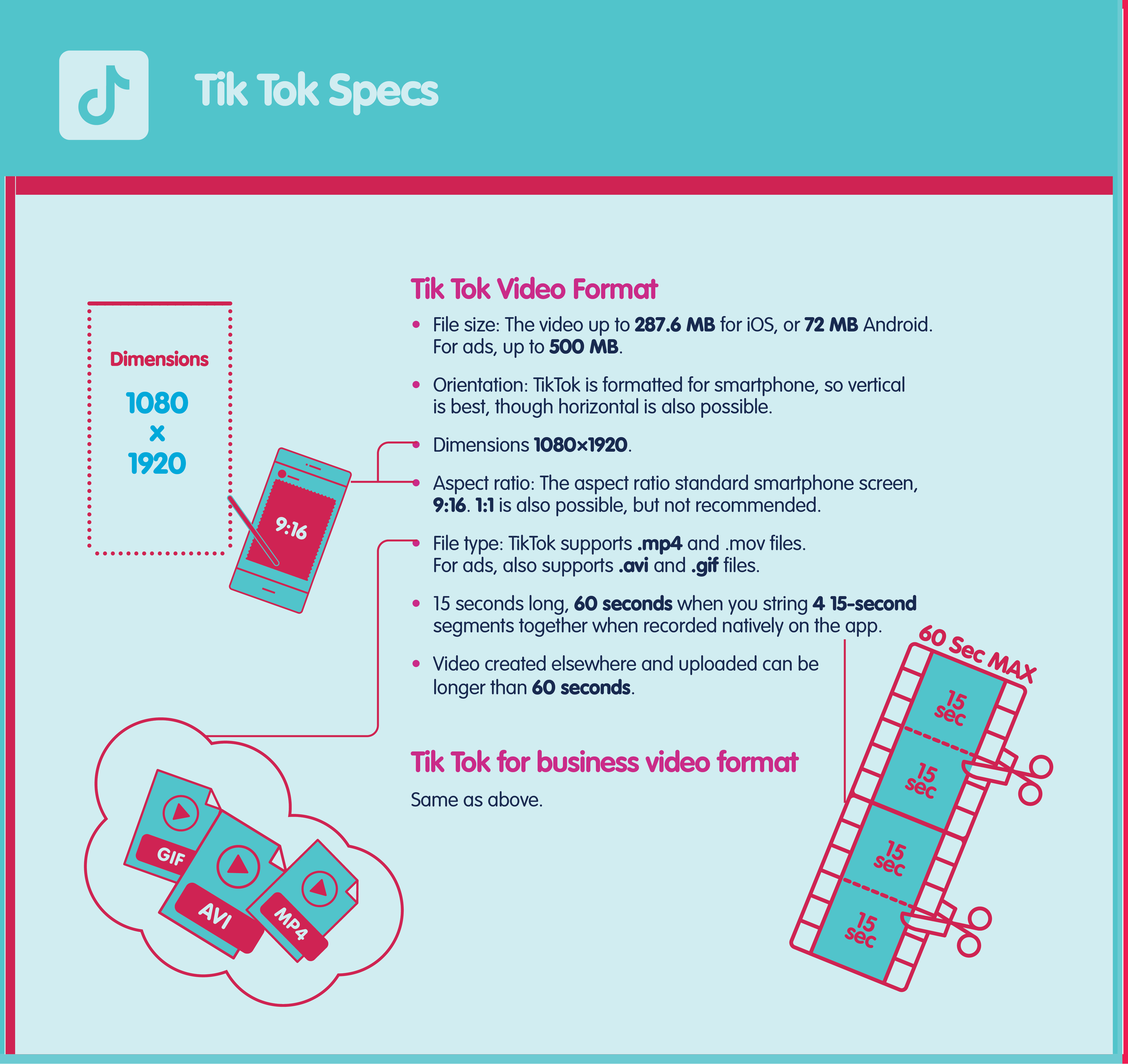 Twitter Video Specs
Twitter may be a micro-blog site more suited for news stories, celebrities and Trump, but that doesn't mean you can't tell a rich brand story with its video capabilities. In fact, it's the go-to video platform for the sports and entertainment industries; however, TikTok could take a slice of this pie.
Twitter videos autoplay in a user's timeline and will loop if the video length is under 60 seconds.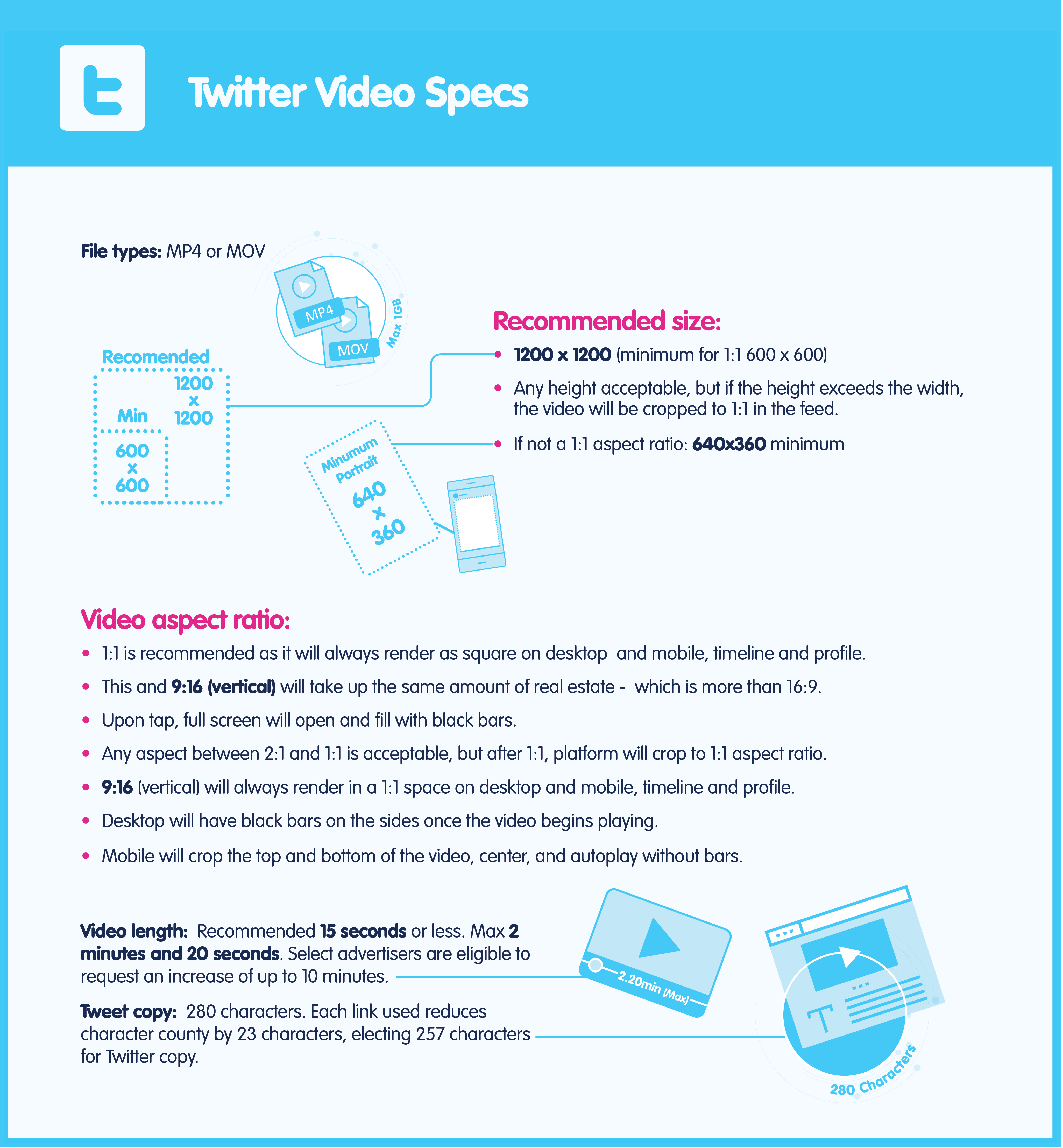 So there you have it, our top five social media video formatting guidelines. If this still seems all too much, feel free to reach out to see how we can assist you by not having to worry about any of this tech spec gobbledegook. And if you need any more marketing tools, feel free to look here.