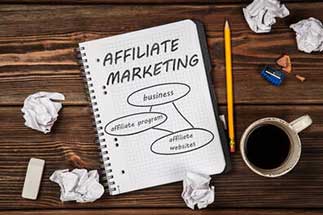 We think it's safe to say that most of us would like to make money while we sleep; to wake up in the morning, open your laptop, and view the sales made through throughout the night. Oh, we can only dream (pun intended) … Or can the dream become reality through the use of affiliate marketing? The answer is a resounding YES! Find out how here.

This is a reality for thousands of Affiliate marketers worldwide, and we're not just talking small change here. Research from a study carried out by VigLink shows that 9% of publishers made more than $50 000 USD in 2016 alone. We suspect that number has increased as the trend for affiliate marketing is only going up. According to Statista, affiliate marketing spend in the US alone is tipped to reach a whopping 8.2 billion dollars by 2022, up from 5.4 billion in 2017.


You may have heard the term affiliate marketing thrown around, yet are unsure exactly what it is, how it works, and where to start. If so, this post is for you. As well as covering all of the above, we will be focusing on affiliate marketing for content writing purposes and how it can help your inbound marketing strategy.
What is affiliate marketing?

Affiliate marketing is when website owners and publishers partner up with companies to promote their product or service on their site through affiliate links. Let's take a look at an example.

Wirecutter is a highly popular review site. Note; on the their homepage they are straight-up upfront about making affiliate commissions in return for providing top-notch independent reviews. When they review a highly rated product, they provide an affiliate link to the seller's website. If you click through and buy that product then Wirecutter earns a commission of the sale. Therefore, the more blog readers and website visitors you have, the higher the probability of converting and making more commission. As such, affiliate marketing works best for those with an already established following or high website traffic volume.

However, not all affiliate marketers are review sites. You will also find affiliate marketers working through the following platforms:

Coupon sites

Loyalty sites

Shopping comparison sites


Blog sites

News & media sites

Email

Mobile

Search affiliates
However, as mentioned previously, For the purposes of the article, we will focus on how to write an affiliate blog post. But first, let's look at the why.


Why affiliate marketing?

With the rise of online publishing, social media and influencing, affiliate marketing has become a legitimate and often lucrative practice. It's a long game, but you could eventually earn yourself a sweet passive income if you set it up correctly. Who's doesn't want to make money while they sleep!

The essential ingredient is the affiliate link, which is tracked through cookies to calculate your commissions. However, there are four components to enable the affiliate engine to operate:




1. The Brand

Also known as the merchant or the advertiser, the brand is who you are marketing for as the publisher. They are selling their product or service, and you are helping them do so by mentioning or recommending their brand. By doing do so, you are rewarded with a cut of any sales made through your affiliate links. Anyone can be the brand, no matter the size of the company, from a solopreneur to a Fortune 500 company.




2. The Network

The affiliate network, or program, is the intermediary between the affiliate and the seller. They take care of the work behind the scenes, handling the payment and product delivery. Examples of an affiliate network are Amazon Associates, for those who want to promote physical products on their website or blog. Therefore, an affiliate network also serves as a database of products for the publisher to choose from for promotion.




3. The Publisher

This is you. Also known as the affiliate, the publisher markets the brand by recommending their product in the content. Your job as the affiliate is to convince readers of the value of the brand's product so that they make a purchase. It is important to note that best practice involves transparency and full disclosure of you getting paid for any sales made.




4. The Consumer

The consumer (and hopefully customer) makes the affiliate engine run. Without the sale, there is no revenue and thus no commissions for you, the publisher. The consumer is reading your content for a reason; it's a subject matter which they are interested in. Therefore, chances are they may also be interested in products or services related to your topic. If there is a product that you have used and you genuinely feel it could be of value to your readers, then why not recommend it and hopefully earn some income from the sale. It's a win, win, win outcome for the brand, affiliate and the consumer.


Affiliate marketing best practices
1. Decide on your platform.

For this article, we will focus on blog content. If you do not already have your blog up, you can find help on starting and optimising a blog for the search engines here.


2. Choose your affiliate program wisely.

An affiliate program or network link you up with offers that you can promote on your articles or blog. Here are the giants of the affiliate marketing programs:
The above examples only scratch the surface of all the affiliate marketing networks out there. Which is right for you depends on your subject matter and niche.


3. Find your niche/know your audience.

Continuing from the previous point, you'll want to write to an audience with particular interests. By doing so, you can tailor your affiliate links to that niche, which increases your likelihood of conversion. For example, suppose you write a blog about organic Mediterranean cooking and recipes. In that case, you might want to join an affiliate program that can partner you with cooking utensils and organic products merchants. The important thing here is to do your research. By establishing yourself as an authority on a niche subject, instead of promoting a wide array of products, you are talking to the people most likely to buy the product you are marketing.


4. Make it authentic and personal.

Your choice of affiliate partners should also come down to products you believe in, so ensure that you make your blogs and recommendations are both authentic and personal. Not only will this help you achieve a better conversion rate, but it will improve the readability and build trust for your personal brand. Establishing trust is essential, and the quickest way to lose it is by recommending products that you haven't used or are irrelevant for your audience.


5. Drive traffic to your site.

You will need to learn the best Search Engine Optimisation (SEO) content writing practices or pay someone to do it for you. Good SEO gives your content a presence online and helps drive traffic to your blog site. The other option is paid traffic, AKA Pay Per Click (PPC) advertising such as Google Ads. You can learn about getting started with Google Ads here. PPC may be a good strategy upfront to drive initial traffic to your site and give your blog some exposure. You can then chip away at the SEO as it's more of a long game anyway. Think of PPC as the sprint, and SEO as the marathon. Just set yourself a budget for PPC as it can get expensive. Aim for a one or two week campaign to start with, then focus on your SEO.


6. Don't put all your eggs in one basket.

Promote products from many different merchants. If you only market one seller's products, you only get one set of commissions. Work with several merchants in your niche to promote a wide range of products to diversify the number of commissions you make. Moreover, this affiliate marketing strategy creates a steadier stream of revenue.


7. Know your affiliate traffic sources.

Use Google Analytics to know your audience's demographics to tailor your messaging and optimise your web pages for that audience. Furthermore, Google analytics will give you better insight into which products to promote to your audience moving forward. The better you know your audience, the better you can engage them and recommend meaningful products they will want to buy.


A great example of affiliate marketing

Let's take a look at travel blogger The Points Guy, one of the world's top affiliate marketer bloggers. The Points Guy earns a lucrative living by writing a blog that provides tips on making the most out of reward points earned on credit cards with travel benefits.

To see what the best of affiliate marketing blog writing looks like in practice, let's take a look at one of Brian Kelly's top posts, The Best Travel Cards for 2020.

There are several factors why this post is so successful at affiliate marketing, some of which include:
He picks a highly searchable topic
The title shows purchasing intent
He caters to keen travellers that like to use points for travel
Writes an insightful blog post with relevant details by providing the best travel cards for the current year (2020)
Includes a series of credit cards with blue links to deals
You don't get much better affiliate marketing blog writing than that. Set the above post as your benchmark and framework, and you'll be on the way to achieving affiliate marketing success.


How affiliate marketing helps with your inbound efforts

Using affiliate links in your content adds extra benefits to your inbound marketing efforts. Your inbound marketing goals may include:
Brand awareness
Building an email list
Gaining sales leads
Becoming an authority on a subject
Creating the law of reciprocity
Now, what if you could earn extra income by just providing links to products and services that you believe in and could help your audience? blog and article writing for inbound marketing purposes take a lot of time. Therefore, adding an extra income source to get paid for all your effort makes sense. Remember, it's a long game, but one which can pay off handsomely if you keep at it and do it right.

Oh, and did I mention you can make money while you sleep!?

If you follow the above practices and find your niche, know your audience, and link them up with products they will love, this will only improve your brand's image and increase your readers' likelihood of doing business with you.


Want to know more?

Fileroom is about growing your business and future-proofing your sales revenue. We work with to achieve purpose-fit content at every stage of your buyers' journey, paired with digital enablement, deep-data and artificial intelligence so you can focus on what you do best for your customers.

Fileroom are specialists in affiliate marketing and help businesses implement affiliate best practices into their inbound marketing efforts. We are ourselves affiliated with Hubspot's affiliate program, which we can leverage for your business.

Please visit our website and online pricing calculator to get started.