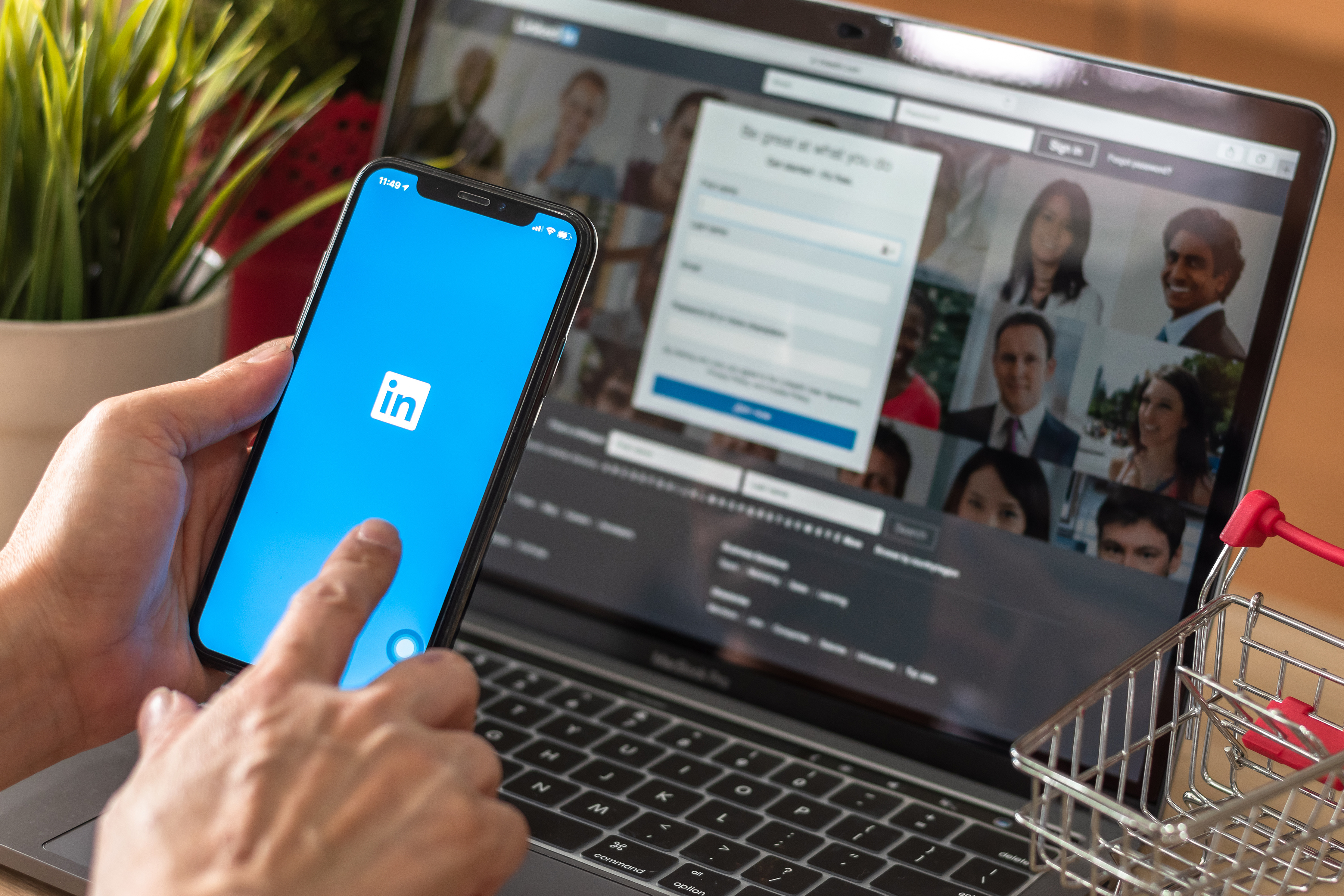 You already know LinkedIn is an essential tool for business marketing. And when you have a business, you want to do everything you can to promote what you do and how you do it. When it comes to accessing low-cost professional resources for self-promotion, it doesn't get much better or simpler than LinkedIn.
Today, more than 690 million professionals use LinkedIn as a valued tool for Business Networking, B2B networking, prospects generation, demand generation, and B2B lead generation. It's the place where business owners connect with industry experts, employees, potential recruits, and clients for small business marketing and lead marketing.
If setting up your business profile on LinkedIn has been on your to-do list for too long, today is the day to get started and achieve marketing optimisation on this humble yet incredibly powerful platform. Unsure of where to start and how to pull off something you've never done before while looking professional? Follow our guide to using LinkedIn as a tool for business marketing from creating your profile and carving out your strategy and crafting your content, to promoting your Page with LinkedIn Ads and using analytics to hone your efforts.
Create Your Page.
LinkedIn is no new kid on the block, and chances are you already have an abandoned LinkedIn Page connected to your name and business. Or perhaps you never got the LinkedIn memo until now. Either way, today is a great time to update or start your Page and commence using LinkedIn as a super-effective tool in your business marketing toolkit.
First things first, let's work on making your Page stand out from the crowd. Your Page, or profile, is where people will land and scroll when searching for your name or business. Consider your LinkedIn page your business' ultimate first impression. Here, viewers can gain a valuable snapshot of what you are about, what you do well, and what you value as a company, and the calibre of your employees.
Creating an eye-catching and informative LinkedIn page is a high priority. Start by deciding whether you would like a personal Page or a company Page and go about adding a profile picture and banner. You can add in your logo or if you are the face of your company, upload that professional headshot here. Your banner picture can be anything relevant to your company, or industry. Make sure your LinkedIn page reflects the imagery, colours, and content in line with your other complementary marketing tools such as your website, and your social media pages.
From here on in LinkedIn will guide you through the setup process from adding in your industry, company size, and address if you are setting up a company Page, or things like your education and experience if setting up a personal Page. Take time to create your Page identity or summary as this is the place for you and your business have an opportunity to come to life and show off your unique talents and creative flair. You have up to 2,000 characters to make an impact, so make it direct, persuasive and in the first person. Your identity or summary is also a great place to optimise your Page with the use of keywords to ensure your Page is searchable to the people you want to attract. If you aren't sure where to start with keywords, ensure you have mentioned your industry, and any positioned-based keywords along with lingo or experienced-based jargon that is relevant to your field or industry. For example, if you are a project manager be sure to mention this title and any other specific titles such as construction project manager or engineering project manager. Be sure to steer clear of overused terms such as loyal, energetic, client-focused and only mention keywords or skills that you possess and that are relevant to your business.
Get Connected.
Now that your profile is complete, it is time to start connecting with contacts, employees, clients, and relevant industry experts. It's as easy as clicking 'connect' and then waiting for your pending connection to be approved. LinkedIn makes creating connections for Business Networking simple by giving you plenty of tools to find people you know including the search results page, Grow Your Network page, My Network Page and People You May Know feature. Whether you are interested in B2B networking, prospects generation, demand generation, or B2B lead generation, LinkedIn can help you connect and maximise your marketing efforts.
For a gold star, venture into a LinkedIn Group even start one yourself. LinkedIn Groups are essentially online meeting rooms where people like you can indulge their similar interests and post and hold conversations. Particularly useful for B2B networking and B2B lead generation, LinkedIn Groups can be a great place to interact, share your expertise and establish yourself as an expert while creating meaningful industry connections and expanding your recommendations.
Define Your Strategy.
While you wait for your pending contacts to get back to you, it's useful to plot how you will use your LinkedIn Page for business marketing. A solid strategy will enable you to shine a light on exactly you want to get out of the platform and allow you to create goals around your activity. Perhaps you are using LinkedIn as a place to show off your achievements, star employees or current clients, or as a place for potential employees to check out what your business is all about? Whether your goal is Business Networking or B2B networking, LinkedIn is the perfect tool for marketing optimisation.
Once you have your audience considered, think about what the people you are trying to attract to your Page might want to find here. And once you have this list, it is easy to start delivering.
While you are creating your strategy, it is a good idea to check in with your competition to investigate how they are using the LinkedIn platform. Take note of what they are doing well, and maybe what you could do better.
Craft Your Content.
Now you know your audience and why you are here, its time to start utilising the platform by contributing through creating meaningful content. While many people consider LinkedIn a social media tool for businesses, it is important to curate and consider the content you do post on this platform as it can impact your business and your brand.
Keep a content planning schedule, we show you how here, so what you are posting is in line with your marketing strategy and most importantly, to ensure you are posting consistently. If you are still struggling to map out your content, these content planning templates might be handy. If you are stuck on what to share, think about about what you can create to effectively communicate elements of your business that you want to promote but in a creative and value-added way. Can you contribute something you have learnt in your profession? Maybe make a comment on behalf of your industry on a topical subject? What about news and industry research?
Keep in mind that LinkedIn values high-quality content. If something you posted directly to LinkedIn gains momentum, LinkedIn will reward you by making it appear in one of their categories. Not only will this give you visibility beyond your scope of connections, but it can also direct even more people who valued your comments to your Page.
As with all content, changing up your mediums will keep things on your LinkedIn Page fresh. Don't be afraid to share a blog post you've recently written, a video, quick tips that inspire personal success, or even photo updates of yourself, your business or your employees. Also, don't forget LinkedIn is interactive, so once you've posted be prepared to respond to comments and to interact with other members who have taken the time to acknowledge and consider your post.
If there is an element of your business or even an initiative you are working on that you believe deserves its own space while remaining connected to your Page, check out Showcase Pages. Designed to highlight all aspects of your brand, Showcase Pages are extensions of your Linkedln Page that enable you to put a spotlight on individual brands, business units or initiatives that exist within your business.
Promote your Page.
Promoting your LinkedIn Page is as easy as connecting and sharing on the platform. If you have followed our advice and joined LinkedIn Groups, created some relevant content, commented and congratulated others on their work, reached out to connections for a recommendation, then you are doing well.
If you want to promote your Page further, LinkedIn allows you to boost your efforts with LinkedIn Ads which show up on the side, top or bottom of LinkedIn members feeds, and Sponsored Content which appears within members feeds. Both these options which enable you to advertise your profile, a LinkedIn page or send traffic directly to your website. LinkedIn Ads and Sponsored Content are good options if you are interested in generating leads and brand awareness, and for attracting recruits with advertising job vacancies.
Regardless of whether you are keen to run a LinkedIn Ad or Sponsored Post, the process of kicking off an ad campaign is easy thanks to LinkedIn's Campaign Manager. Here, you can create an ad campaign in minutes by choosing your format, creating your ads, targeting your audience, and setting your budget.
If you aren't ready to embark on a LinkedIn Ad just yet, there are plenty of ways you can organically promote your flashy new Page. Try adding a LinkedIn badge everywhere you promote your other marketing tools including on your email signature, your website, and anywhere else people connect to your online profiles.
Get Acquainted With Analytics.
Once you feel confident using and interacting on the LinkedIn platform, it is time to start monitoring the impact of your efforts through analytics. Not only does monitoring and understanding your analytics allow you to measure your success, but it also enables you to see what's working and what you need to improve.
Your analytics is accessible via the Analytics Dashboard and shows several indicators of your Page's performance, including visitors, updates, and followers. Within these three tabs is access to more data which is useful depending on your interests and goals.
If you are interested in digging deeper consider accessing the LinkedIn Sales Navigator. This handy advanced tool allows you to target the right people faster, understand key leads and changes within a company, and reach and engage with prospects. Its use does come with a fee, however, if you are serious about using LinkedIn as a business marketing tool, this subscription will help you achieve your goals.
Monitor your analytics regularly to gain an understanding of how your efforts impact your LinkedIn Page. This information will enable you to target your content and add value to any LinkedIn Ad or Sponsored Content you embark on in the future.
We Are Here To Help.
So now you know how easy it is to start up a top-notch LinkedIn Page for business marketing. If you don't have the time to craft your LinkedIn Page, Fileroom is here to help. Our team of professional copywriters are experts at creating LinkedIn profiles that pack a punch, and we can help you to establish your Page that will maximise your business marketing efforts on this essential platform.