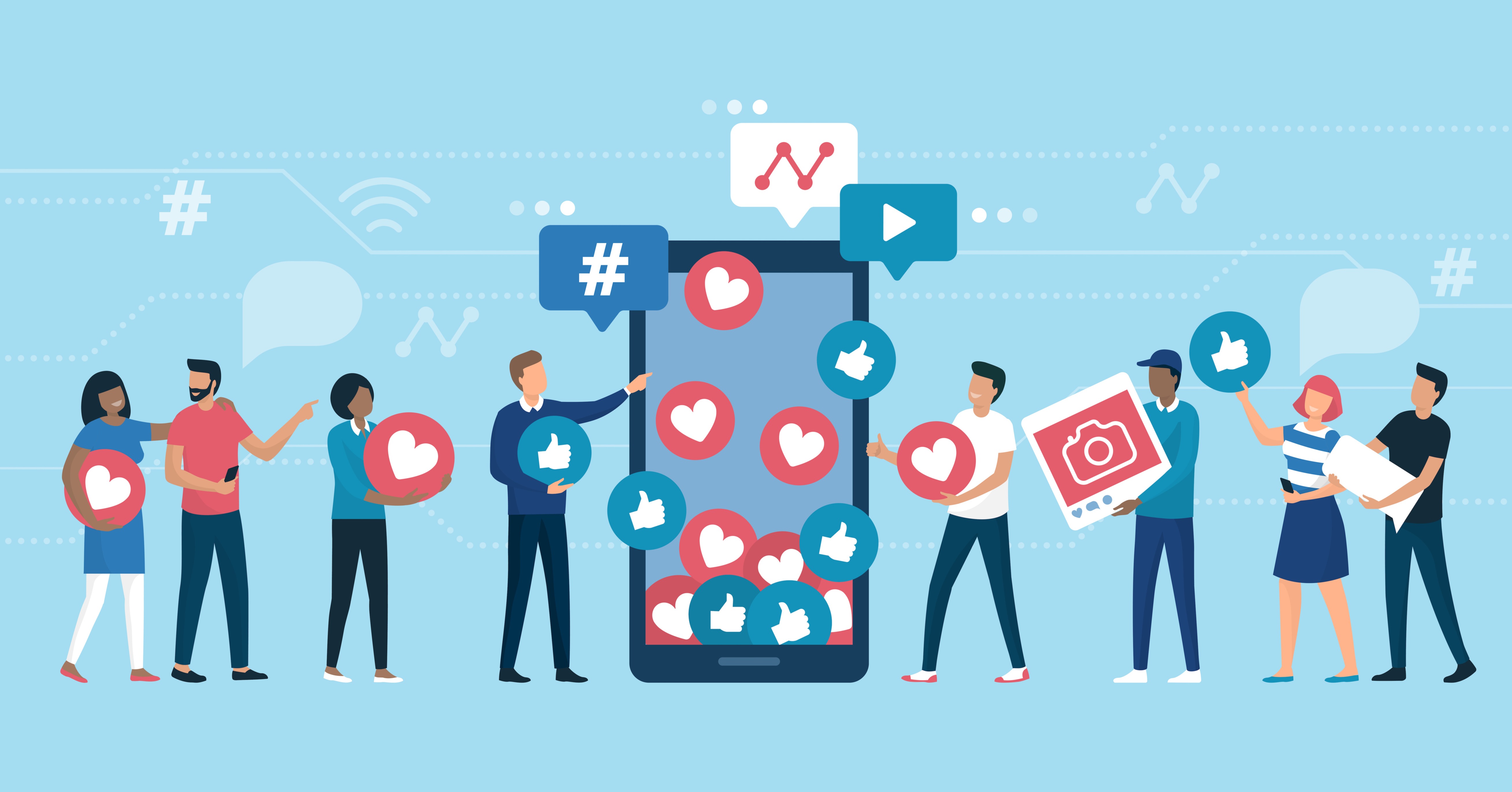 With HubSpot social media management software, you can connect with your target audience by meeting them where they are, offering them content which piques their interest, and marketing your brand to them. With a wide variety of social media platforms to choose from and many social media metrics available, you can hone your approach, grow your brand awareness, and improve your return on investment.


Why is HubSpot Social Media Management Software so Important?

Once you learn how to use HubSpot for social media, you will quickly see its benefits. One of the most significant benefits of HubSpot for social media is that you can run everything from one central location. With everything in one place, you can save time and streamline your workload because you don't have to log in and out of individual social media accounts constantly.

Because you can monitor social mentions on HubSpot, you can engage in conversations and further build your reach, engagement, and brand awareness. You won't miss an opportunity to talk to your customers again. This way, you know when there's a sales prospect, a compliment, or a complaint about your brand, and you can respond immediately.

Everything comes down to the bottom line. Gone are the days of erecting a billboard and hoping for the best. With social media, you can calculate your return on investment. HubSpot offers in-depth reporting so that you can monitor the success of your campaigns across social networks.


How to use HubSpot for Social Media

HubSpot simplifies social media publishing. You can publish directly to Facebook, Instagram, LinkedIn, and Twitter through this single platform. You can even connect your social media accounts to your blog to automatically share new content. HubSpot will even tell you the best time to post so you can schedule your posts to maximise your campaign engagement. These insights take the guesswork out of your social media campaign strategy and improve your success rate.

In addition to the convenience of managing your social media accounts from one place, you can also set up keyword monitoring streams so that no mention goes unnoticed. Once set up, this feature will flag critical interactions and send email alerts to your team. Each of these interactions in HubSpot will be linked to real people on your database so that you have the context of the conversation, and you can prioritise them accordingly.


Report on Your Social Media Return on Investment

With HubSpot's out-of-the-box social media reporting capabilities, you can compare the performance of your campaigns across all of your social media platforms. Moreover, HubSpot integrates with your CRM so that you can track the leads, visits, and how successful the campaign is. Such thorough tracking means you can calculate your return on investment to compare all of your campaigns.


Simplify Your Social Media Management

With HubSpot, you can simplify your social media management by linking social posts with their corresponding marketing campaigns. Using the HubSpot campaigns tool, you can tag your content and its associated marketing assets to measure the response to your campaigns. This tool allows you to dive deep into the metrics of your social posts on your overall marketing and campaign strategies.


B2C Social Media Platforms

A B2C or business-to-consumer marketing is different to B2B or business-to-business marketing in that the sales funnel tends to be shorter, and the marketing campaigns are typically directed towards the individual rather than an organisation as a whole. The content may be less detailed and more entertaining.

Social media platforms which are ideal for B2C marketing campaigns:


Facebook – with 1.9 billion daily active users globally, Facebook is the biggest social media platform; it's ripe with organic opportunities and advanced advertising features.
TikTok – if it's gen Z and millennials you're trying to connect with, TikTok is perfect for short-form creative videos to help create brand awareness and build a community.
Instagram – perfect for B2C content; Instagram is flush with 1 billion monthly active users, most of whom are millennials. Its advanced e-commerce features make it easy to discover brands and products or services.
Twitter – perfect for public relations, customer service, and community building; Twitter has 211 million daily active users who are predominantly millennials; this platform is not to be underestimated.
YouTube – when people talk about long-form content, such as how-to videos, YouTube is the place to be because it has 315 million daily active users worldwide. YouTube is difficult to rival when it comes to community building.
Snapchat – popular among young adults or gen Z; Snapchat has 306 million daily active users worldwide, making it ideal for advertising and brand awareness.
Pinterest – user demographics range from mostly millennials to Gen Z and X, and even baby boomers. With an audience of 444 million monthly active users worldwide, this is a wonderful place to discover new brands through visual advertising.
Clubhouse – despite being relatively small, Clubhouse still has 10 million weekly active users. This platform is inhabited chiefly by millennials who enjoy it as an audio-only conversation starter.


B2B Social Media Platforms

Unlike B2C marketing, B2B tends to be more detail orientated. The content is aimed at those who make purchasing decisions on behalf of a business or organisation, which is why it takes longer to convert users to leads.

Social media platforms which are ideal for B2B marketing campaigns:


TikTok – this versatile platform is also great for B2B marketing campaigns because of its community-building capabilities. Second, only to YouTube, TikTok is growing rapidly and already has 1 billion active monthly global users.
Twitter – Twitter's focus on words rather than visuals sets it apart from other social media platforms. It has expanded its capabilities to include Twitter Spaces (an audio tool), Twitter Moments to share content, and Twitter Communities to build communities.
LinkedIn – with its 774 million active users, LinkedIn is used only for business. It is populated with a range of baby boomers, gen X, and millennials looking for networking opportunities. LinkedIn is where B2B companies find key decision-makers within specific industries and niche business communities.
YouTube – for B2B marketing, YouTube is an excellent platform to promote educational content because it is typically long-form. Hootsuite describes this social media platform as the second most visited website in the world.
Clubhouse – leveraging only audio, this platform is great for B2B marketing. Users can drop into chats, similar to podcasts, where industry leaders share their knowledge and build communities.


Why Your Company Should Use Social Media Marketing

Nearly everyone is on some form of social media, so it only stands to reason that your business should be there too. The media landscape has shifted dramatically, so sticking to the same old tactics may not yield the same results. Meet your future customers where they are – online.

Create Brand Awareness If your company isn't already on social media, you are missing out on a potentially massive reach of thousands, if not millions. Social media's ability to generate brand awareness has been proven. Brand awareness starts by driving engagement through comments, shares, likes, reposts, and saves. Social media is also an effective method of directing traffic to your website - if you include links in your bio, profile, and posts.

Drive Leads and Increase Conversions When you share and promote your products and services online, you are advertising to an audience who has already shown interest in your products or similar products – unlike the old 'cold call' marketing style. This lead generation method boosts conversions and ultimately increases your sales revenue more effectively.

Nurture Your Leads and Build Relationships With Your Customers It's easy to assume that it's more challenging to connect with customers online than in person, but they initially said the same thing about the telephone. By engaging with your followers on social media, you can also build a relationship between them and your business. You do this through consistent interaction and just the way you may read a person's body language in person; you can analyse how successful these engagements are through analytics. More than posting, you can also answer questions and reply to their comments when they need assistance.

Analyse the Competition Social media allows you to keep an eye on your competitors, analyse their strategies, look at their product ranges, assess their campaigns and see how they interact with their followers. You may not go so far as to build a case study, but you can evaluate their failures and successes to see where you can improve your own social media strategy.


How to Use HubSpot for Social Media

HubSpot gives you every tool you need to successfully implement marketing campaigns and manage your social media accounts. Let's break down the steps you will follow in managing your social media.


Get to know your audience and your typical buyer personas
Choose the social media platforms that are best suited to your business
Decide which KPIs are most important and choose which social media metrics you will focus on
Find out which brands and companies you are competing against
Come up with content which set you apart and engage your followers
Plan and schedule your posts in HubSpot


How to Analyse the Impact of Your Social Media Presence

There are a variety of metrics you will track to follow your growth and success.

The Top 10 Most Important Social Media Metrics to Monitor


Engagement: some metrics are platform specific, but engagement primarily includes replies, likes, clicks, and comments. Instagram also has saved posts, and Pinterest has pinned posts
Reach: how many people have seen your content
Followers: how many people have chosen to see your posts on their feed
Impressions: the number of times your post has been seen
Video views: the number of views a video gets. This only applies to platforms which support video, such as Instagram, Facebook, Snapchat, etc.
Profile visits: how many people have visited your social media profile page
Mentions: how many times your profile has been mentioned in other user's posts
Tags: when a user adds your company's profile name or your hashtag to a post
Reposts: when a user posts your content to their profile
Shares: when a user shares your posts with their network

Now that you know how to use HubSpot for social media, you are better equipped to manage your social media strategy and analyse your metrics. To get additional help onboarding HubSpot for your social media, contact fileroom today.