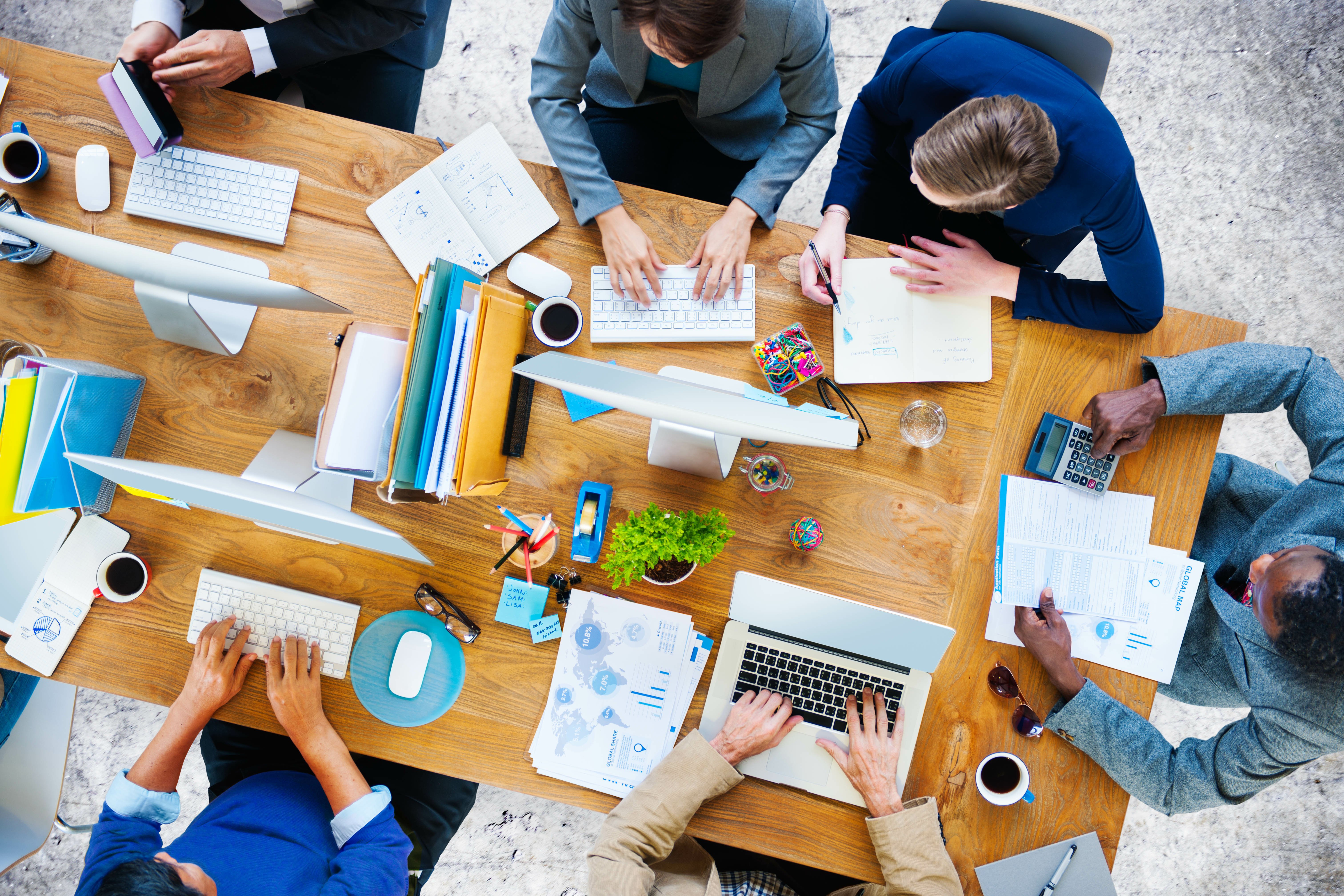 There are too many buzzwords flying around within the digital marketing space these days, and it's easy to become confused and disorientated. Here's our pick of the top terms you need to know to execute a robust content marketing strategy and fuel demand generation in 2021.
Advertising

While the word 'advertising' is often touted as dirty, it's nothing more sinister than helping your ideal prospect find the solution to their problem: your product or service. Advertising is most effective when it's not trying to sell something, but rather offers immediate value. Don't sell your product, sell the solution your product solves.
Here's some useful tools:
Google Ads: Formerly known as AdWords, Google Ads help your prospects find your business at the most opportune time: when they are actively searching for a solution. You can target specific locations, control your own budget and promote your website through search ads, banner ads, video ads, mobile ads and app ads.
Facebook Business Manager: The Facebook Business Manager is a tool for managing multiple client or business ad accounts, all in one place. It enables you to share assets and pixels between different campaigns and ad accounts to organise and optimise more efficiently.
LinkedIn Campaign Manager: The LinkedIn Campaign Manager is a great tool for B2B and SaaS businesses. As the primary user demographic of LinkedIn is corporate professionals, this is a great tool to help you get your message in front of them with targeted ad campaigns.


Audience Creation

Audience Creation refers largely to Facebook advertising whereby businesses can create 'audiences' based on age, location and interests to enable more targeted marketing. Businesses can also create 'lookalike' audiences to expand potential prospects.


Audience Segmentation

Audience Segmentation is especially relevant to businesses engaged in email marketing. Audience Segmentation separates customers and prospects within your list, identifying them based on numerous indicators including referral source, purchase history, and retargeting sequences. In general, the more segmented your list is, the more capable you'll be of relevant targeting, increasing conversions.


Backlinks

Backlinks are an essential component to any effective SEO strategy and involves including URLs within your website content to external webpages which improves your search engine ranking.


Community Management

Community Management generally refers to your brand's efforts to nurture your followers through social media and mitigate any issues before they become problems.


Competitor Research

Competitor Research is important in all facets of business, but in digital marketing generally refers to your SEO strategy. Competitor Research seeks to collect and analyse information about your competitors to find out their most successful keywords and discover what threat they present to your business.


Content

Content is anything you publish. Content is frequently used to give value to prospects, establish your brand as a thought leader, or increase your search engine visibility. Bad content has the power to turn away your ideal prospect, while authoritative, valuable content is the key to increasing lead generation and conversion rates.


Content Marketing (a.k.a. Inbound Marketing)

Content Marketing (also known as Inbound Marketing) is the process of publishing valuable, authoritative content across multiple platforms to raise awareness, generate leads and increase sales. Content creation is a vital part of any marketing campaign as it increases brand visibility and trust.
Here's a useful tool:
HubSpot: HubSpot is the market leading software for inbound marketing, sales and customer service. With both free and paid plans available (depending on enterprise revenue), HubSpot offers not only a full suite of marketing, sales, customer service and CRM software, but the resources, methodology and support to help your business grow.


Conversion Rate

Conversion Rate refers to the percentage of visitors who fulfil an action you want them to take. This could be clicking on your ad, signing up to your newsletter, or completing a purchase. Optimising your conversion rates is an economical method to increase ROI and profits without creating new service offerings.


CPC (Cost Per Click)

CPC is a standard metric for paid advertising and traffic methods including Facebook Ads and Google Ads. It measures the average cost of each click by visitors on your sponsored ad or promoted content. Reducing CPC is a key role of digital marketing specialists and social media marketing agencies to increase ROI.


CRM (Customer Relationship Management)

CRM software is any platform that enables businesses to analyse and interact with customers and prospects. They enable the nurturing of cold, warm and hot leads through integrated data services including email sequences and behaviour history. CRMs help businesses increase conversions and save time.


Dashboards

Dashboards are visual interfaces which help communicate important and often complex data to users through simple and effective visual methods including graphs and charts. They help organise and categorise data based on a wide range of factors. There are generally three types of dashboards: operational (what's happening now), strategic (tracking KPIs), and analytical (identifying trends).


Domain Traffic

Domain Traffic is the total aggregate traffic that visits your website from any traffic source. It's not only important to monitor, but also to increase, as more visitors results in increased conversions.


Dynamic Content

Dynamic Content is any digital content that changes or adapts depending on input data including user preferences, behaviour, time of day and traffic source. Dynamic Content is more engaging than static content and can increase visitor interaction and conversion rates.


Keywords

Keywords are the keystone to any good SEO and SEM strategy. They are identified through research to work out which keywords your prospects use when they are searching for services like yours. These keywords are then used throughout your website and content marketing efforts to increase website visibility.


Landing Pages

Landing Pages are often the first touchpoint between you and your prospects. They usually are promoted with paid advertising and offer a valuable piece of content to your prospect in exchange for their email.


Lead Generation

Lead Generation is the lifeblood of any business. Therefore, the more you can automate your lead generation strategy, the more prospects you'll be able to convert into clients, and the faster you'll grow. Lead generation strategies include paid and organic methods.


Link Building

Link Building is an important component of SEO strategy and seeks to increase website visibility by increasing the perceived value and authenticity of it to Google's search engine algorithm. This is done by including URL links to other websites within your own content.


Marketing Automation

Marketing Automation seeks to minimise the amount of human interaction required to undertake your marketing efforts, thereby increasing ROI by optimising efficiency.


Optimisation

Optimisation strategies include any efforts by you to increase sales using data-driven insights. Optimisation strategies might include improving your website SEO, improving the CTA on your landing pages, including an upsell offer to increase Average Cart Value, or optimising your paid advertising retargeting strategies to encourage visitors to return to their abandoned cart. The ultimate goal of optimisation is increasing ROI.


Organic Traffic Generation

Organic Traffic Generation refers to traffic (visitors) to your website which have found their way to your content by themselves, without being referred there by another website or by your paid advertising methods. Strong Traffic Generation strategies (including optimising SEO) are important as they increase ROI and helps you build a more resilient business.


Pillar Pages

The Pillar Page strategy is a method of content marketing whereby a Pillar Page of broad and general topical interest is at the core, with multiple topic clusters of more narrow focus connected via internal links. This helps enhance website visibility and visitor interest.


Reach & Frequency

Reach and Frequency are two vital metrics to monitor. Reach refers to the number of impressions or prospects your message is reaching using any one method, while frequency refers to the number of times that prospect is exposed to your brand messaging in total. Both are important, but a balance must be found. Generally multiple touch points (higher frequency) are required to convert prospects into customers.


SEM (Search Engine Marketing)

Search Engine Marketing is an essential activity for most businesses with a digital presence, as it seeks to position your brand as the forefront option when your ideal prospects are red hot and actively searching for solutions to their problems. SEM helps position you as the first choice when your prospect is ready to buy. Google Ads is a popular SEM platform, as Google is the world's biggest search engine.


SEO (Search Engine Optimisation)

SEO is a foundational tool to increase website visibility to search engines such as Google. The principles of SEO seek to identify the keywords your ideal prospects use when they are actively seeking solutions to their problems on Google. With these insights, business can then use these keywords within their website content to increase their visibility to prospects. SEO Management is essential in optimising the digital presence of businesses by making sure the keywords they're using throughout their website remain targeted and relevant to their ideal prospects.
Here's a useful tool:
SEMrush: SEMrush is an online visibility management platform helping businesses with research and tools to implement and optimise their marketing visibility strategies. SEMrush helps businesses with keyword research to identify opportunities over your competitors.


SEO Audit

Regular SEO Audits of your website are imperative to the health of your SEO ranking. They are best completed using third-party software to identify technical issues and mistakes which could be hindering your search engine ranking.


Social Media Automation

Social Media Automation seeks to minimise the amount of human intervention required to carry out day-to-day social media tasks, saving you valuable time without neglecting your brand's social media presence.


Social Media Listening

Social Media Listening is the process of monitoring your social media channels for customer feedback and brand mentions. This is important for many reasons, including boosting brand engagement, personality, loyalty and mitigating any negative customer interactions or reviews before they get out of hand or worse: go viral!


Social Media Management

Social Media Management is an important task for any brand or business in the 21st Century. With so many different social media channels, audiences and metrics to keep track of, managing multiple social media channels can quickly become very time consuming. To reduce wasted time, consider using a Social Media Management tool.
Here's some useful tools:
Sprout Social: Sprout Social is a Social Media Management tool which helps minimise any wasted time as you post content across social media channels. It achieves this by integrating all your social platforms into one single destination.
Hootsuite: Hootsuite is a social media management dashboard to make it easier for users to manage their social media platforms with built in tools to optimise metrics.


Social Media Marketing

Social Media Marketing is the process of using social media platforms to identify prospects and connect with audiences. Social Media Marketing may have several objectives, including brand awareness, lead generation, nurturing prospects, website visitor retargeting and B2C sales.
Here's a useful tool:
Socialbakers: Socialbakers is an AI-powered social media and digital marketing tool to help you manage and measure all your social media metrics in one place. From audiences to views and engagement, Socialbakers helps you optimise your social media efforts.


Topic Clusters

Topic Clusters are a group of web pages within your website which are interlinked, starting with a broad, primary piece of content (known as a Pillar page) and connected to multiple offshoot pages of more narrow content topics. A cluster content strategy increases web presence visibility to search engines and helps your visitors navigate your web content easier, reducing cognitive fatigue.


Traffic Behaviour

Traffic Behaviour refers to the actions taken or not taken by visitors to your website. Understanding how visitors interact with your website is key to increasing conversions.


Trending Topics

Identifying Trending Topics is a simple way brands can leverage current internet traffic to engage with their prospects. It can be a great way for brands to increase visibility, awareness, engagement and personality. Monitoring Trending Topics is easily accessible through social media platforms such as Twitter, Facebook and Instagram, or through services including Feedly, Reddit, BuzzFeed or Google Trends.


UX (User Experience)

UX refers to the experience a user has when they interact with your product, service, app or website. User Experience is important to keep in the forefront of your mind when building any digital content – from websites to eBooks – as cognitive fatigue is increased with poor UX, leading to lower conversions and cart abandonment.


Web Analytics Report

A Web Analytics Report assists business owners monitor the performance of their website, tracking metrics including conversion rates, page views and visitors. It's imperative to monitor your website analytics to identify poor performance and increase conversions.


Here's some useful tools:

Hotjar: Hotjar is a practical approach to website optimisation, offering heatmaps, recordings, polls and more to help businesses optimise visitor website experiences. It offers a straightforward solution to troubleshooting low conversion rates.
Google Analytics: Google Analytics gives businesses the tools to measure advertising ROI and gain valuable customer insights. It collects website visitor analytics to help owners measure and optimise their website's performance.
Feeling lost with your content marketing efforts? Wasting too much time and not seeing any returns? Content marketing doesn't have to be hard. With fileroom, you can rid yourself of the headache and get back to what you really enjoy. Start a conversation today and succeed tomorrow.