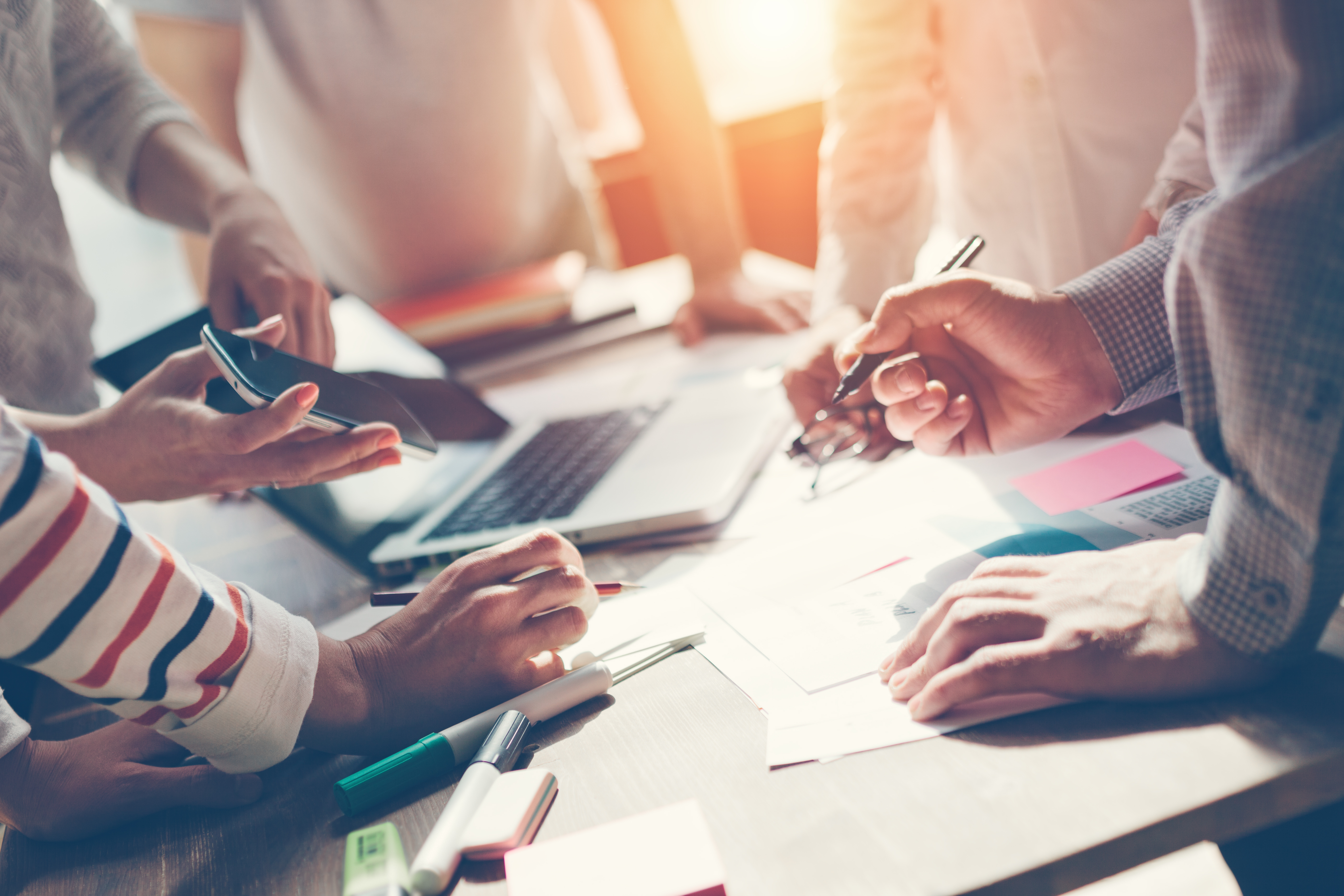 COVID-19 has completely reshaped how we work, communicate, and collaborate. Remote working had a stigma attached to it pre-Covid. Now, it has become the norm as many employees around the world are forced to work from home. Covid has also prompted an unprecedented digital transformation of traditional project management models – everything from planning and engagement to assigning tasks and collaboration. Consequently, we are experience a boom in collaboration software tools such as Microsoft Teams, Box and Slack, to name but a few.

As the future of work unfolds before our eyes, it is essential to be adaptive to new processes in this ever-changing business world. The good news is, thanks to aforementioned new technology, it's relatively easy. With the right tools and tips, virtually anyone can be a project manager. And that's precisely what we're going to provide you with here - your modern-day project management checklist.


Project Management Checklist
1. Choose project management software.

Project management software such as Slack and Box were already increasing in popularity pre-COVID. However, the pandemic made them mainstream as businesses needed to collaborate remotely now. There are now many to choose from, varying in affordability and usability. We will go over the leading players.


Slack

Slack is one of the original and best-known project management/collaboration tools. Slack is brilliant for bringing your Team together to collaborate, even while working remotely. It is designed not to replace existing tools that you may use for project management, but to compliment them. And this is the brilliance of Slack; it's integrations with other services to bring to-do lists, tasks and notifications to work in harmony with the platform.
Perhaps the best part about Slack is the pricing. For small teams, it is free. The free version is limited; however, you can still integrate it with Google Drive and Microsoft 365, as well as perform unlimited voice and video calls between teammates. For many, such as small business and freelancers, this is more than enough.
For larger business and enterprise, they offer paid versions, with ascending number of features:
Pricing:
Standard: US $6.67 per month

Plus: US $12.50 per month

Enterprise: Contact Sales
Monday

Monday is relatively new on the scene but rapidly rising in popularity due to its usability and attractive pricing. You can set up your workspace literally in minutes with their customisable templates. Customising is excellent if you are using within an organisation and wish to have brand consistency when inviting clients to your Team to collaborate on a project.
Like Slack, Monday has great integration functionality with all your essential software, including Slack, Outlook, Zoom, and many more. They also have specific project management software where they guide you in creating a plan, streamlining communication, tracking progress, as well as making data-driven decisions. With many other great features, I expect Monday to only increase in popularity with today's demand generation.
Monday has four pricing models to choose from, listed below. Note, you will save 18% if paid annually:
Pricing:
Basic: $11 per month

Standard: $14 per month

Pro: $22 per month

Enterprise: Contact sales
Hive

Another excellent tool for your project management is Hive. Hive offers a 14-day free trial to test it out, including inviting an unlimited number of co-workers to try it with you. Moreover, you can request for more trial time if need be.
One of the great features of Hive is the add-ons to facilitate your individual needs. For example, it's External Users add on for $4 extra per month allows you to invite outsourced contractors and freelancers outside of your organisation to collaborate on projects within your workspace.
For enterprise, Hive steps it up a notch with the Hive Analytics add-on, that leverages your data and machine learning for insights on your teams performance, identifying inefficiencies, and improvements for better productivity.
14-day free trial period (with option for extension)

Standard: $12 per month (if paid annually)

Enterprise: Contact sales

Add-on's: $4 each per month
Teams

Teams is your big dog in the space, part of productivity tech behemoth Microsoft. Teams is a great option, especially if you already use their products such as Microsoft 365. What's more, they now offer a free version of Team's with basic functionality including:
Unlimited chat & search

Online meetings and video calling

Team & personal file storage

Real-team collaboration with Office apps (Word, Excel, Etc)
Again, this may be all you need if you are a small business or freelancer, and it will most likely meet your project management needs. However, if you can afford it, we recommend getting the Microsoft 365 Business Basic package which, as far as we are concerned, is enough to run most businesses. It also includes high tech features such as Screen Sharing and remote access to someone else's desktop, which sounds a bit creepy, but it can be handy.
Pricing:
Free: Free

Business Basic: $6.90 user/month

Business Standard: $17.20 user/month

E3 (Enterprise): $29.00 user/month
The most straightforward, traditional technique is sometimes the best for running projects. It includes preparing a plan for the work, estimating tasks to perform, allocating resources, giving and getting feedback from the task assignee's, and monitoring deadlines and quality control.


2. Break down the project

Okay, once you have chosen your project management tool, it's time to break down the project. A massive project can seem overwhelming at first. Breaking it down into tasks helps to alleviate this. First, you must define the endgame of your project. What's the overall objective/s.
For example, a complete business brand positioning project might include:
Brand/Style Guide, including colour scheme, font styles, tone of voice, mission statement, tone of voice, etc

Logo design

Website design

Content writing
Once you've broken it down into manageable chunks, you will then get a clearer picture of who and what is required to accomplish the project. Moreover, you will have a better idea of the scope and time needed to complete it. This will help when setting deadlines for each task.


3. Allocate resources

Once you have identified the tasks required to deliver on the overall project objectives, it's time to allocate them to the talent needed. But first, check if you need to break the project's tasks into subtasks until you have clearly defined assignments.
Again, drawing from the example above, for content writing, you might break this down into:
Whether you have three different people perform all these tasks or a gun writer that does all three, it is still a wise idea to break them down to ensure they are completed for quality control. More on that later.
In all the project management and collaboration software recommended above, you will be able to generate tasks and sub-tasks for each category and assign each task to a team member. You can set a deadline for each job.


4. Communication

Communication is paramount when it comes to project management—another reason why these collaboration platforms are essential. Besides being able to communicate directly with each team member inside of each task group you have created, they can also keep you posted on their progress.
Within each task set, there is a function to set the status of where a project is at. For example, while writing this article, it went through the following status's so that my project manager at Fileroom, knows what stage it's at:
Research

Outlining

Writing

Feedback

Revisions

Editing

Proofing

Complete/publish
This is an excellent form of communication for project management, as it takes up hardly any time. Just by setting the progress status, you are communicating to all stakeholders of what stage your task is at. Furthermore, it also helps to hit deadlines.


5. Provide feedback and collaborate

Any project is an ongoing process of back and forth, tweaking and refining. Feedback, notes and collaboration are essential, and that's what these tools are designed for. As stated earlier, within each task is a chat group.
Let's use the logo design as an example. The project manager has created a task for the logo design. Within that task group, you have:
The project manager

The client

The graphic designer

Senior marketer
The graphic designer has been issued a brief to design the logo. They come back with their first design and upload the file to the logo design task group. The client can look and message within the logo design chat group that they like it, but they feel like something is missing. In turn, the senior marketer suggests for a subtle change—client agrees. Graphic designer goes and works their magic, and set's the task status to revisions!


6. Quality Control

Always have final checks of work. Especially important with any form of writing. Proof the copy, and thoroughly check the grammar. The last thing you want after you unleash your project is to find mistakes.
There are some great tools to help you with this. For our content and copywriting services we use:
7. Monito
r Deadlines

Always set a deadline for each task. Deadlines have immense power and can also cause deadline stress! But they encourage action. Without a deadline, productivities arch-nemesis kicks in - procrastination.
Within the tools above, the best way to monitor deadlines is by checking up on the status of each project. As such, make sure your team uses the task status properly. And if they don't, then drill it into them until they do!
Knowing at what stage each of your team members and tasks is at, will assist you with ensuring the project is delivered on time. It will also give you better peace of mind!
Furthermore, team members can make use of timers for when they are working on any given task. This can help you keep track of how long a job may take, as well as if too much time is spent on the one task.


8. In Conclusion - it's all about organisation.

With project management, the old cliche rings true - failing to plan is planning to fail. If you organise yourself from the outset, break the monumental project down into manageable tasks, pull the resources together, and work as a team, you will be fine.
Remember, what is on your side, and to be grateful for is the technology of today that enables us to execute project management successfully. However, if all the above still feels like too much, and you are interested in hiring a professional project manager to do it all for you, feel free to reach out to us at Fileroom today.
Fileroom is your one-stop-content-shop, where you can hire professionals in all forms of content such as video production, copywriting, and graphic design, to name a few. You can also use the online content calculator to receive a quote.