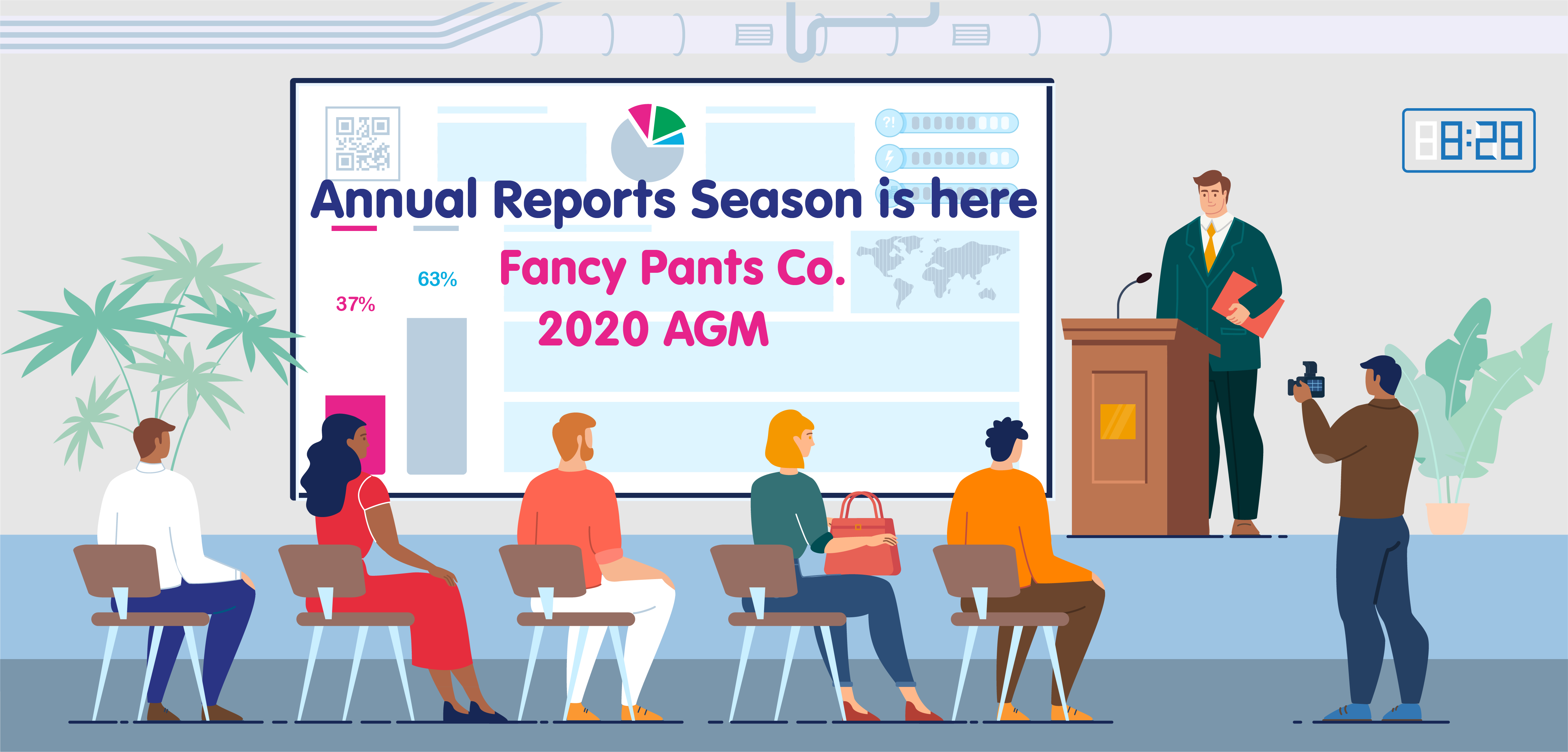 Shareholders and other stakeholders want more than an annual report thrust into their hands right before the AGM meeting. They want engagement. A great annual report ensures your stakeholders stick with you, supporting you throughout the year and into the future. With a remarkable annual report design, you have the means to provide more information and get dialogue started.
Who are your stakeholders?
It's important to know your stakeholders. Although you may be sending annual reports out to shareholders, ASIC, the ASX and other governance bodies as part of the reporting season, there are other stakeholders that need to be considered.
These include:
Creditors
Investors
Employees
Customers
Communities
Knowing who your stakeholders are will allow you to improve engagement with them. What information do they need to have? What information do they want to have? What information can they get from an annual report that they can't find anywhere else? These are the questions you have to ask – and it's not enough to simply guess. Open up the lines of communication and find out the important content to cover than just the compliance requirements.
Plenty of Australian companies are producing creative annual reports. With technology you have the opportunity to go above and beyond by creating engagement with an interactive annual report, built on a digital content site. This is where it can be beneficial to work with a graphic design agency, or digital marketing agency with web design capability that specialises in annual reports for companies. The best annual report is produced when content creation specialists collaborate with those that understand regulatory and compliance requirements.
Meet ASX Reporting Requirements for Listed Companies
You will need to meet all of the Australian financial reporting requirements based on your type of entity and the industry you're in. This can include financial performance over the course of the year, cash flow statements and other financials.
As you prepare to meet lodgement requirements according to the ASX reporting calendar 2020, you also have to ensure key achievements and messages are not lost amongst all the detail.
Consider design/communication elements such as:
Shareholder letter
Annual report cover page design
Financial data visualisation such as charts, graphs and infographics
Headers to cover various reports
Graphics and design to keep your company brand strategy on point
Highlights of important data
AGM presentation ideas
Remember - it's not just about making sure that the compliance part of the annual report guidelines are met. You need to tell your story in a way that it is exciting for all stakeholders so they want to pick up the report and read it all the way until the end. Understanding annual reports will ensure you meet the various requirements, and working with specialists to build it into an engaging marketing document will ensure it works for you.
Add Excitement with an Annual Report Front Page Design
Your organisation has worked too hard all year long to not share it all meaningfully. An annual report to shareholders (and every stakeholder out there) is a chance for you to do some bragging. Tell people about your accomplishments. Talk about the work that your employees have done. Thank your sponsors.
Regardless of how amazing the inside of the report is, it's all going to be lost if you don't start your audience's journey with a stunning annual report front page design. While there are many articles on how to write a shareholders report, few include the importance of visual engagement and digital interactive content sites in the mix.
Consider it a book cover. Books get judged by their covers all the time.
Add colour. Incorporate your company branding. Let people know what they can anticipate finding within the report so that they want to open it up and start reading.
If the cover looks boring, they'll assume that the contents are boring, too.
The first step toward better engagement is to draw the reader in – and this is done with the graphics on the cover. Don't try and do it yourself if don't have the right skill set. There are specialists who can do it for you. This is one presentation that is critical, so make sure you allocate a budget for it.
Follow Annual Report Design Tips
Some annual report designs fail. Others succeed. What makes one better than another? It all comes down to aesthetics, content design, and layout. Check out how your competition is engaging their stakeholders with their annual reports. Identify what parts you want for your own.
Include more than just the financials, such as:
Mission and values statement
Growth plans
Updates on business segments and future aspirations
Impact on communities
Success stories
Annual report letter to shareholders
If your report doesn't feel exciting, it's due to how you are presenting the information. If you want to engage people, you have to ensure that you're not presenting endless blocks of text. Just as you don't want to bore people on your website, the same overall design principles apply to your annual report. When you use visuals, retention levels move from 10% to 65%, even higher when you bring video into your delivery.
Engage Your Shareholders
You have a specific obligation to your shareholders. They're more than just interested in the performance of the company because they're financially vested and are deciding whether to keep their investment. While they need a financial report, you want to consider what else they need.
As they get more engaged, they'll be more likely to participate in voting. As such, you need to encourage them to stay on top of announcements, news and annual reporting content so that their votes are meaningful.
They need to know about where the company is headed – what are some of your major breakthroughs or leading trends?
They need to know about the importance of your employees – how are you training employees and what kind of retention rate do you have?
They need to know about your industry as a whole – where is it headed and what major obstacles are you capable of breaking through?
By keeping your shareholders engaged, you don't have to worry about their votes damaging the strategy you are working hard to deliver.
Why Engagement is Critical
Your employees also want to know that they work for a great company so that it leads to better retention rates. The community wants to know that you're doing your part to help them. Shareholders want to know that their money is well spent.
Engagement allows for better communication. It ensures that you're not only sharing the success of your company but opening up dialogue with the people that support you. Have you invited people to share their thoughts? You can do that without a formal invitation. Show how an idea from the community became a success within your company. Share a few statistics on social media comments.
Virtually anything can be included in an annual report – especially once you start working with a design agency that specialises in annual reports. An agency can transform your corporate and annual reports into an effective way to communicate with your key audiences, regardless of their profile.
Work with a Content Creation Agency Like Fileroom
You only get one chance to make a great first impression. Some stakeholders may be unfamiliar with who you are and what you have to offer. As such, you have to consider how your annual report is also a marketing tool. Everything matters – the cover page design, the annual report letter to shareholders, and more.
By working with fileroom, you can build your report visually, and digitally to maximise engagement and return on investment. You can incorporate photos, infographics, motion graphics and annual report highlight videos, and other design elements that really grab your audience's attention.
You also never know what stakeholder may end up being a shareholder, creditor, employee or potential major investor down the road.
Explore some new annual report layout design ideas with the fileroom team this financial year. Our annual report designers and copywriters can ensure that your story is told in a way that gets you real engagement.
Contact us for your annual report design quote today, we can help you be among the best this ASX reporting season.